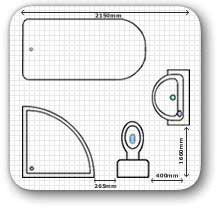 When we sat down with a couple of interior designers to get some ideas for our master bathroom layout and the design of our kitchen, we learned a few things about "standard dimensions" that are good to know when designing a new home.
Below are those which apply specifically to the bathroom.
Plus, I've found a number of great online tools for designing your own bathroom, and lots of other great tips & resources that could save some time and money in the long run.
Typical Bathroom Dimensions:
Full bathroom (w/tub & shower combo, toilet & sink): 5×8 feet
Small bathroom (w/corner shower, toilet & sink): 6×6 feet
Half bathroom (powder room w/toilet & sink): between 3×6 and 4×5 feet
Water closet (just toilet): at least 36in. x 66in.
Standard Sizes & Dimensions For Items Inside Bathrooms:
2-1/2 feet x 5 feet is the standard bath tub size

32 inches x 32 inches is the typical size of shower stalls

2-foot depth is standard for actual space for clothes along a closet wall

3-foot hallways are standard inside a home

2-foot deep cabinets in the bathroom are standard

32-inch doorways are ideal

24-inch space in front of a toilet or bidet is standard

30-inch space beside the full length of the tub is typical

60 to 72 inches of space required for double bowl vanities

30 inches is standard vanity height

60 inches must separate a light switch from a water source

7-1/4 inches high (or less) and 10 inches deep are standard for a tub step

26 inches off the floor is the standard height for toilet paper holders

14 inches wide x 16-1/2 inches long is the standard toilet bowl size (from the center of the seat hinge holes to the front edge of the outside rim)

14 inches wide x 18-1/2 inches long is the standard elongated toilet bowl size (from the center of the seat hinge holes to the front edge of the outside rim)
Sources: The Furniture Machine, Keidel, Kohler
Bathroom Universal Design Dimensions For All Ages & Abilities
1. A minimum clear floor area that is 5′ square (25 square feet) for wheelchair users to make a 360-degree turn.
2. An enlarged bathroom door with a minimum 32″ width (36″ is preferred) from doorstop to the face of the door when it is open in a 90-degree position to provide access for a wheelchair.
3. Hallways leading to the bathroom widened up to 60″ with low-pile carpeting or non-slip flooring to ease the use of walkers and wheelchairs.
4. Easy-to-grasp door handles on all doors.
5. A barrier-free shower stall, 36″ x 36″ with seat or a minimum of 30″ x 60″ without a seat (but install a grab bar around the stall).
6. An easy-access bath with removable seat (standard 5′ tub) or a permanent seat unit (5′ plus a 15″ allowance for the seat. There must be 30″ of clear floor space in front of each tub when approaching from the end (head) and 48″ if the tub is approached straight-on (side).
7. A motorized tub lift to automatically lower a person into the water or, for the less disabled, a removable bathtub seat.
8. A roll-under vanity top (34″ maximum from top of counter to floor and 29″ minimum from underside of sink to floor) with insulated hot water pipes to prevent burns.
9. Low mirrors.
10. Non-skid floors.
11. Handicapped toilet or an extended seat.
12. Wall-mounted grab bars in tub/shower areas and around toilet (diameters should be 1-1/4″ to 1-1/2″). The space between the grab bar and wall should be 1-1/2″.
13. Loop or single-lever faucet handles.
14. Faucets with anti-scald temperature controls.
15. An all-direction shower head.
16. Cabinet hardware with "D" pulls.
Source: Accessible Bathrooms
Helpful Resources For Designing Bathrooms
Does It Fit?
4-Steps To Designing Your Bathroom
Bathroom Design and Remodeling
Fun Online Tools For Bathroom Layout & Design
Virtual Bathroom Planner
Kohler: Virtual Bathroom Planner
SmartDraw is a more sophisticated bathroom design program. You can download a free trial of SmartDraw here.