I first saw this on HGTV. (It was featured on their I Want That! show.)
It's a tad pricey.
But you've gotta admit…
Your dog has got to get a bath. And he will surely love this super-spa luxurious doggie bathtub!
(…So will your back!)
Jentle Pet Dog Bath Spa
I seriously considered getting one of these for our new log home.
What can I say, our dogs are like our children.
And when you find things that will make life even better with them, then you jump on it — if you can. (Because who wants to bathe your large breed dog this way forever?!)
This creative bathing vessel has been thoughtfully and ergonomically designed specifically for canine members of the family to provide a comfortable, therapeutic, safe environment for dog bathing. — HGTV
The Jentle Pet bathtub for dogs is available from MTI Whirlpool or on Amazon.com! (Here are the specs.)
The Jentle Pet measures 48″ L x 30″ W x 25″ D and is priced starting at $1,199 as a soaker, or $1,699 plumbed with handspray, diverter, movable tie all the way up to $2,599 with complete whirlpool system and fill-flush cleaning system.  Source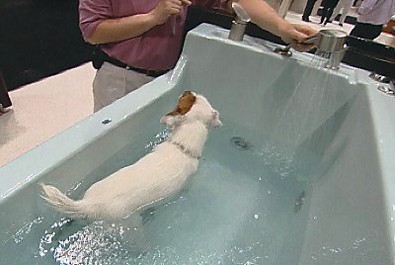 The Jentle Pet dog spa tub is similar in size and shape to those used at professional dog groomers:
Other Luxurious Bath Tubs For Big Dogs
To date, I think the closest thing you can buy is the very popular Booster Bath Dog Bath Tub. I like it, but for our 'dream home' I still really want a built-in shower facility for our large breed dogs.
Here are some that I've saved in my idea file: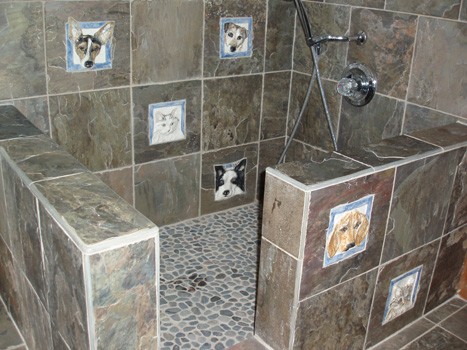 Listen to Bud Light's Real Men of Genius "Mr. Doggy Day Spa Operator":
https://log-homes.thefuntimesguide.com/files/Bud_Light_Real_Men_of_Genius_Mr_Doggy_Day_Spa_Operator.mp3