This post may contain affiliate links. If you buy thru these links, we may earn a commission at no additional cost to you.
---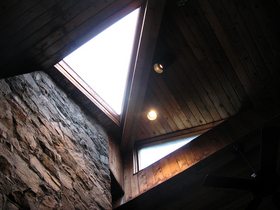 Everyone enjoys walking into (or working in) a kitchen that has good natural lighting.
The same is true when sitting in a cozy family room. The light of the sun seems to bring the outside in for a nice warm feeling.
Likewise, the drama of a morning sunbeam shining down into a grand foyer through a skylight placed high up to emphasize the curved stairway ascending to the next level also makes a great impression when guests enter your home.
Just the same, a couple of skylights strategically placed in bathrooms and master bedrooms seems to be all the rage these days — both for added effect, and natural lighting.
Skylights provide up to 30% more natural light than vertical windows, and they can make a small space seem larger.  Source
Ok, we've established that allowing extra light into your home is an aesthetically pleasing thing. But at what cost? Is there a downside to installing skylights on your roof?
Problems With Skylights Of The Past
A few decades back, adding skylights became popular.
Sadly the problems resulting from poorly designed skylights started coming to light soon thereafter.
Leaks, faded carpet and fabrics, heat loss, and condensation were the types of things people complained about after installing a skylight or two. Skylights seemed to open a can of worms maintenance-wise.
Many older plastic domed skylights have yellowed to the point that very little light passes through into the home anymore.
Installations relying on sealers to maintain watertight integrity often become a sloppy mess as homeowners keep applying more sealer or caulking in an effort to stop leaks.
There was drywall damage, the need for constant repainting, and the list goes on. First-generation skylights quickly became one problem after another.
Here's an interesting look at how skylights work.
Today's Skylight Improvements
Thankfully, today's modern skylights have addressed many of the faulty design problems that plagued earlier skylights. This has made skylights a popular choice in modern homes once again.
With raised curb designs and factory-manufactured flashings, the improved weathertight ability has, in most cases, made leaks a problem of the past.
Energy-efficient Low-E glass has addressed the faded fabric and heat loss issue.
And as long as you stay with well-designed skylights that have glass panels, you should have many years of sunlight shining into your living space — from trouble-free skylights.
Before You Install Skylights…
Of course, there are still a few things to consider before you place a skylight 20 feet up over your foyer:
Just how do you plan to keep that window clean? Is it even possible to weave a ladder tall enough to gain access for cleaning or repair into that space?
Repair issues aren't completely non-existent with today's newer skylights. Don't forget, many skylights have an opening mechanism — so beyond adding light into the room, you can also encourage good ventilation and allow trapped heat to escape during the hot summer months. Sometimes those opening mechanisms need a tune-up.
Oh, and don't forget the handy rod you will need to operate the opening mechanism itself. (That is, unless you buy the more expensive remote-controlled skylights.) How long will it be before you misplace it? Or, worse yet, what if you forget to close the skylight before the downpour hits? (Just about everyone's done this — at least once!)
Then there's always the possibility of impact damage to your skylight. Large hail, tree branches falling, meteorites. Okay, this kind of damage is rare, but if it does happen the potential for extensive water damage from rain is much greater with a big gaping hole in your roof.
It seems the key phrase in homes today is "maintenance free". Set-it-and-forget-it technology is at the forefront of most consumers' thoughts. Most people just don't have the time to mess with things.
If you're thinking about adding skylights to your home, keep this in mind:  Before you opt for elaborate roof-mounted windows with bells and whistles, remember at some point in time you will have to work on them.  Just my 2 cents.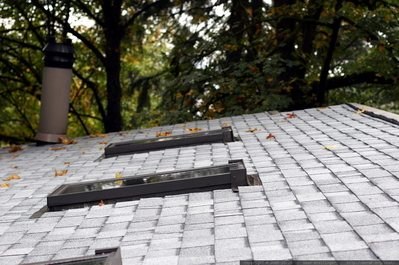 RELATED:
I've been involved in RVing for 50 years now — including camping, building, repairing, and even selling RVs. I've owned, used, and repaired almost every class and style of RV ever made. I do all of my own repair work. My other interests include cooking, living with an aging dog, and dealing with diabetic issues. If you can combine a grease monkey with a computer geek, throw in a touch of information nut and organization freak, combined with a little bit of storyteller, you've got a good idea of who I am.