This post may contain affiliate links. If you buy thru these links, we may earn a commission at no additional cost to you.
---
I have thoroughly studied 2 different composite decking manufacturers at this point:
This, as part of my quest to determine whether composite decks make sense or not for our new log home.
What follows are the biggest differences between MoistureShield and Timber Tech. Those are the brands I like best at this point.
---
Where I'm Coming From…
I have met with sales reps who actually sell these products.
And I went straight to the top and have spoken at length (several times) with the manufacturers of these composite decks.
I have also seen, touched, and witnessed the effects of long-term weathering for both product lines.
Here is my summary of the similarities and differences…
Fasteners: The screws are applied from the top side of the plank into the joists below. The end result is a series of tiny dots (screws) which are barely visible on the top of each plank.
Amount of "virgin plastic" used: The core of their business is recycling. So MoistureShield uses recycled plastic, rather than virgin plastic for their decks. Combined with real wood fibers, the end result is a super-strong and long-lasting deck.
The shape of the planks: The underside of the MoistureShield boards have a series of shallow channels grooved out. I'm told these are for a lighter weight deck, better ventilation & air circulation, and flatter lying boards over the course of time.
Color choices: There are relatively few color choices. Most are lighter, rather than darker (…and redder, rather than browner). However, you do get a few added color choices (and deeper color pigmentation) in the MoistureShield line.
Natural vs fake looking boards: The MoistureShield line definitely has more natural-looking designs. The "embossing" (wood-like effect that is applied to the boards) looks more like real wood, in my opinion. That's probably because the embossing actually goes deeper on the MoistureShield deck boards.
Matching rails and posts: In general, the MoistureShield posts and rails look identical to the deck planks. If desired, you could get posts and/or railings on your own somewhere else and just use the composite deck planks themselves. You definitely cannot paint or stain these composite posts and rails.
Spans between deck joists: The recommended joist spans are 16-inches on center, which is the same as wood.
Warranty: MoistureShield's 50-year warranty protects against rot, decay, and insect damage. The coverage is pro-rated 2% each year after the first year. They pride themselves on the fact that they have never had what they call a "field failure" — where the product fails for any reason. Thus, the MoistureShield warranty has never been called into question in the years they've been making and selling composite deck materials.
Cost: On average, $4 a square foot is a ballpark figure for MoistureShield composite decking (…plus installation, if you don't do it yourself).
The Dirt Test: The MoistureShield planks can be placed directly on the ground, or near dirt (think: deck planters can be made from this stuff). They put special inhibitors in the product to prevent mold and mildew.
The Key Test: Scratches remain one of the biggest "issues" with composite deck materials (particularly the darker colors). At MoistureShield they showed me how deep scratches are barely visible in their products (…even with the darker colored planks). That's primarily due to the fact that the color is the same throughout the plank.
Fasteners: You have 2 choices as far as fastener systems goes: 1) screws inserted at an angle between tongue & groove planks, with the next plank completely covering the previous screw; or 2) gap-fasteners inserted between each plank, resulting in precise spacing throughout the deck and no screws on the top side of the TimberTech planks.
Amount of "virgin plastic" used: Timber Tech prides themselves on using only virgin plastic in their composite deck materials. They use a variety of cellulose materials, wood flour, and pure plastic resins instead of recycled materials.
The shape of the planks: Depending on which Timber Tech line you go with, the bottom of the boards will either have a series of very deep channels on the underside (Floorizon)… or the planks will have a solid core of equal depth from top to bottom — like "regular" wood boards do (Twin Finish and Earthwood).
Color choices: TimberTech has a number of color choices, and it sounds like they add a new color or feature to their product lines every year or so. They have some of the most "natural" looking wood colors as well, like Walnut and Teak.
Natural vs fake looking boards: TimberTech's Legacy Collection is surprisingly quite natural looking, especially when it fades a bit over time! At the same time, the embossing itself isn't as "obvious" — it seems more ingrained into the plank, rather than simply on the surface. (Though I know for a fact that it's only applied to the surface and topped with a "finish.") On the other end of the spectrum, the Floorizon boards — and colors — look like fiberglass or durable plastic boards (such as for use a
round pools) rather than resembling wood boards in any way.
Matching rails and posts: With TimberTech, you get perfectly matching posts and rails to complete your deck — you can choose from composite or aluminum posts & railings. Specifically for the Earthwood Evolutions line, you get a classier high-end plastic/pvc product that actually looks more like metal because it's so well-constructed. If you prefer a different look, you could get posts & rails on your own. You could even paint the posts & rails if you like (…but then you'd have the upkeep with that painted surface).
Spans between deck joists: They have a maximum 20-inch on center load. This is a wider joist span than most other composite decks — which I'm told is a compliment to the strength and durability of the TimberTech product.
Warranty: TimberTech's 25 year warranty guarantees against termites, checking, splitting, decay, rot and splintering. It may also be fully transferable to a new owner, if you sell your house.
Cost: On average, $5 a square foot is a ballpark figure for TimberTech decking (…plus installation, if you don't do it yourself).
The Dirt Test: The TimberTech planks should not be placed directly on the ground, or near dirt or moisture of any kind.
The Key Test: Scratching a key fairly deeply on the TimberTech products was barely noticeable until I tried it on the Earthwood Evoutions line. I'm told that light scratches will fade over time and become less noticeable. Deep scratches could be covered up with a Minwax Stain Marker. (More on that later.) Overall, a series of scratches might be more noticeable than one would like with TimberTech's Earthwood Evolutions line. For the record, they did not think that my 80 lb dog's toenails repeatedly walking (and running) on this product would result in obvious scratches.
The Bottom Line…
I'm pretty sure that no matter which composite decking company we ultimately decide to go with (if any), we would be in good hands with either MoistureShield or TimberTech.
And, in case you're wondering…
For the most part, MoistureShield speaks highly of TimberTech. And, just the same, TimberTech speaks highly of MoistureShield. It wasn't until I specifically asked the different reps for their opinion regarding a particular feature of their competitor's that they would open up and speak honestly about the differences as they saw them.
I say that because I think they are both truly reputable companies with very knowledgeable reps and salespeople. I realize it's their job, but everyone associated with these companies has gone above and beyond to be helpful to me. (And subjecting themselves to my million-and-one questions is no easy feat!)
I have certainly gained a wealth of knowledge about composite decks in general from both companies. And they both really seem to care about the customer.
If you want my opinion at this point… I prefer MoistureShield's core product, excellent track record, and customer service and TimberTech's beautiful Earthwood Evolutions line — because it uses fasteners that make the most sense to me (for spacing & ventilation) and it looks the most like real wood. I am struggling the most with scratches… over time.
When it comes right down to it, if we don't like the overall "look", then it just won't work for us (…especially since we will be placing these composite deck boards next to a log home).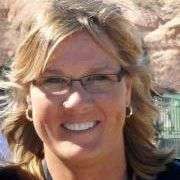 We've gone through the entire process of designing and planning every single detail of our dream log home! We have the blueprints… and the land… and the contractor… and the goal for our log cabin home to be our retirement home. Before you build (or buy) a log home, I have a slew of helpful tips for you — to plan, design, build, decorate, and maintain your very own rustic modern log home. When I'm not fine-tuning the log home of my dreams, you'll find me at the corner of Good News & Fun Times as publisher of The Fun Times Guide (32 fun & helpful websites). To date, I've written nearly 300 articles for current and future log home owners on this site! Many of them have over 50K shares.