This post may contain affiliate links. If you buy thru these links, we may earn a commission at no additional cost to you.
---
Rustic drawer pulls and door handles are one very cool way to accessorize all the rooms in your home that have cabinets and drawers.
And if you own a log home, then chances the more rustic drawer pulls will look better than some of the more modern ones.
The type of drawer pulls you choose for the different rooms in your home says a lot about your style and personality. Rustic drawer pulls, give a room a very unique feel and charm.
And if you've decorated a room according to a theme, then drawer pulls are another way to carry out that theme.

Here are some rustic drawer pulls that would look great in a log home, log cabin, or a lodge…
I just love these horseshoe drawer pulls and cupboard handles!
They're rough and rugged… perfect for a log home.
Whether you actually like horses or not, these are worth checking out.
These horseshoe drawer pulls and matching door handles could easily finish off a log cabin room (along with a saddle or two).
Pine cones are one of my favorite natural accents — because I can remember gathering them as a child to decorate our home for the holidays. These pine cone drawer pulls would be a great touch for a rustic log cabin in the woods.
Check out all of these wildlife drawer pulls featuring bears, leaves, antlers, fish, arrowheads, sticks & twigs, and more. These would be great for a lodge home. Check them all out… they're among the best!
These old-fashioned door knocker drawer pulls have classic lines and rustic features. They also have a wonderful shape on the back with holes cut into the metal in strategic places.
If southwestern flair is up your alley, then you'll definitely want to see these southwestern drawer pulls. The southwestern designs are carved right into the metal and they look very classy.
These black iron drawer pulls give a room a rugged look. They're oil-rubbed bronze and look rustic like cast iron with a handcrafted look. These drawer pulls have a very old-fashioned feel that would go well in a log home.

Metal is a common theme in log homes. These rust cast iron star drawer pulls would be a nice complement to all of the other rustic star decor that you frequently see in log homes. I love the chunky look and feel of these drawer pulls.
Perfect for your wild side, these antler drawer pulls look like real antlers. They're thick and durable and will add just the right touch of wildlife adventure to your log home. And they are large enough to be used as door handles as well.
These solid iron clamshell drawer pulls have that 'imperfect' look that screams rustic!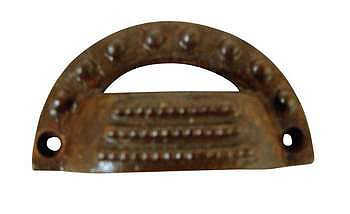 A little more polished than the others, these solid cast metal drawer pulls are rustic yet shiny. There are lots of fun designs to choose from including bears, moose, fish and other wildlife themes.
A great selection of rustic / log cabin drawer pulls
Now, some tips for replacing drawer pulls yourself…
My favorite things to write about are topics that have to do with pregnancy, weddings, saving money, living green, and life with dogs. When I'm not writing, I love to spend time with my husband, read, create 3D artwork and Native American beadwork.