This post may contain affiliate links. If you buy thru these links, we may earn a commission at no additional cost to you.
---
While we were out looking at Smokey Joe's Cabin (again), we ran into the builder/neighbor (again).
This time, he invited us to have a look inside of his log home, if we wanted.
He knew that log homes were a fairly new consideration for us, and he was just genuinely interested in helping us make the right decisions for our next home. He thought we might want to see what a larger (and more custom-built) log home looks like.
…So heck yeah, we went!
WOW!
What an experience to walk inside a custom-built log home for the first time and to hear firsthand from the owner (who just so happens to own a log home company & land development company) what he, himself, likes & doesn't like.
I also enjoyed listening to the things he would recommend — and not recommend — in a log home.
Maybe We Should Just Build A Home…
So now, after seeing some of the possibilities — some of the unique things you can do with a log home — we are all of a sudden talking about building our own log home!
This is actually more in line with our original plans anyway — to build, rather than to buy existing.
Seeing his house just confirmed our feelings. Never thought of building a LOG home before, but now it definitely seems like something we'd be interested in exploring more.
Before we left, he gave us a Log Home magazine to look through for ideas. I've already bookmarked a ton of great ideas that are in there!
More Good News
The best part… He said that the 5-acre tract next to Smokey Joe's Cabin is also for sale!
There's no For Sale sign. And it's not being advertised (that he knows of). But the owner's husband supposedly passed away before they could start building their home on that property… so it's just sitting there, unused.
He encouraged us to come back out sometime and walk around that property sometime to see if we might be interested in it. He pointed out a bunch of interesting features about it.
The Plan, As It Stands Now
Jim leaves tomorrow for a week & a half trip to Canada, so we'll have to wait until next weekend before we go out there & walk the property. Ugh!
But I'm SO excited to go out there and explore the 5 acres next to Smokey Joe's Cabin. We absolutely love this area. We love the neighbors. We love the wooded privacy. And we can't wait to walk the property and see what it looks like close up.
Plus, we're still holding onto the idea of making an offer on the cabinl.
Why?
Because there's still a lot of potential there — either as an investment, or as our dream home (after a few minor modifications).
Decisions… decisions!
I've got butterflies in my stomach — I'm so excited.
More later.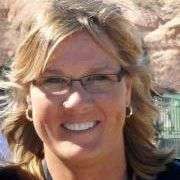 We've gone through the entire process of designing and planning every single detail of our dream log home! We have the blueprints… and the land… and the contractor… and the goal for our log cabin home to be our retirement home. Before you build (or buy) a log home, I have a slew of helpful tips for you — to plan, design, build, decorate, and maintain your very own rustic modern log home. When I'm not fine-tuning the log home of my dreams, you'll find me at the corner of Good News & Fun Times as publisher of The Fun Times Guide (32 fun & helpful websites). To date, I've written nearly 300 articles for current and future log home owners on this site! Many of them have over 50K shares.