This post may contain affiliate links. If you buy thru these links, we may earn a commission at no additional cost to you.
---
Before we could close on our construction loan with the bank (BB&T), we had to submit proof of "builder's risk insurance" to the loan officer.
We thought there would be a simple "builder's risk" type of policy from the insurance companies that would cover things like "theft of materials", "new construction theft", and "dwelling under construction".
But the insurance agents said our only option was to purchase an entire homeowners policy and add those riders to it. It's going to take us anywhere from 6 months to 1 year to build our log home, so I don't really have a problem with buying the full coverage that will protect every aspect of our log home and its belongings while it's under construction.
Boy, were we in for a surprise though… the quotes came in at roughly $1,200 to $1,700 a year to insure our log home… and that's with a $5,000 deductible!
After the home is built, our annual homeowner's insurance rate would be pretty much the same, less the "builder's risk" part… a savings of about $150 a year.
Who Insures Log Homes?
The fact of the matter is…
Very few insurance agencies will even provide homeowners coverage for a log home.
Most won't touch it.
Here are the insurance companies that our log home builder and other insurance agents told us to check with:
We got quotes from all 3 of them, and the prices for homeowners insurance for our log home ranged from $100/mo. (State Farm) to $140/mo. (Farm Bureau). Mid-State hasn't gotten back to us yet. (see update below)
To be clear, using Farm Bureau for example, the rate would be much less if our log home was less than 5 miles away ($500 less a year) and/or if we also had our auto insurance with them ($300 less a year). For the record, our log home is 7 miles away from the nearest fire station, and the private road into our property alone is more than a mile long (and lacks a fire hydrant), so we couldn't qualify for the "fire hydrant less than a mile away" discount.
At the Honest Abe log raising event we went to, someone posed the question: "Why does insurance cost more for a log home vs a stick-built house?"
One of the Honest Abe reps mentioned that Rob Pickett of Timber Logic did a fire study and found no burn differences between log homes and stick-built homes.
An insurance agent from the audience (who was there to learn how to build her first log home) said something this: "Fire insurance is higher on log homes because of the cost to rebuild/replace a log home, which entails higher labor costs."
Log Home Insurance Is More Expensive
The fact of the matter is… log homes are more expensive to insure for a number of reasons.
Reps from various insurance companies have told us that the biggest factors which affect your rate for log home insurance are:
#1  The type of construction (log or not)
#2  The home's proximity to a fire station (less than 5 miles)
#3  The home's proximity to a fire hydrant (less than 1 mile)
#4  The overall value of the home (higher value means higher premiums)
#5 Whether the log home is your primary residence or not
It's a fact, log home insurance is typically 20% more than insurance for the same size non-log home. Worse yet, many insurance companies charging a 25% to 50% surcharge for a log home.
Comparing Apples To Apples
In our case, our new log home will be approximately double the square footage and double the price of our current home.
And, the log home is out in the country where the nearest fire station is 7 miles away.
As a result, the cost of homeowners insurance for our new log home will be 3 times more than what we are paying to insure our current home (…stick-frame, with brick and vinyl siding, in a subdivision with a fire hydrant right across the street, and the nearest fire station less than 1 mile away).
UPDATE: We Found Another Option
We finally heard back from Mid-State, who acts as a broker for insurance of various types. (Our rep was on vacation.)
They found a company that was willing to provide us with a simple builder's risk policy alone. Thus, no homeowner's insurance would be required during the construction phase of our log home. (Yay!)
That company is Zurich. And we were quoted a rate of $665 a year with a $5,000 deductible (our preference).
We will probably go that route for the year that we are building our home. Then, we'll switch to Farm Bureau or State Farm for homeowner's insurance the following year (since they insure log homes).
The bottom line is: Find a company (and an agent) that is familiar with insuring log homes. This varies greatly by state/region of the country.
---
Log Home Insurance Tips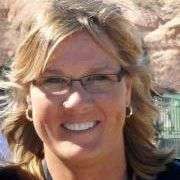 We've gone through the entire process of designing and planning every single detail of our dream log home! We have the blueprints… and the land… and the contractor… and the goal for our log cabin home to be our retirement home. Before you build (or buy) a log home, I have a slew of helpful tips for you — to plan, design, build, decorate, and maintain your very own rustic modern log home. When I'm not fine-tuning the log home of my dreams, you'll find me at the corner of Good News & Fun Times as publisher of The Fun Times Guide (32 fun & helpful websites). To date, I've written nearly 300 articles for current and future log home owners on this site! Many of them have over 50K shares.