This post may contain affiliate links. If you buy thru these links, we may earn a commission at no additional cost to you.
---
Ever since our first year of marriage, I've been collecting ideas of things that I want inside my dream home.
It started as just an idea file — a single file folder… inside a drawer… that I stuffed random house ideas, pictures, and articles into.
Then, when we got serious about building our first house together (a 2-story brick home on a cul-de-sac in a subdivision), I pulled out that folder and started organizing all of my favorite dream house ideas into categories and several different file folders. 
I set out to collect all of the dream home ideas I possibly could — as inspiration for designing and decorating our new house. And I kept all of those ideas neatly organized in colored file folders in a file box with a handle on top — so I could move it from room to room.
I'll call this Version 1.0 of my Dream House Idea Notebook:
Dream House Idea Notebook Version 2.0
After we started the process of building our very first home together, I quickly realized that many of the best and coolest house ideas I had saved would have to wait — for a time when we had more money and a better grasp of where and when we'd be building our "real" dream house together (our forever home).
Fortunately, I continued to add to my "idea folder" through the years. Because here it is almost 5 years after we build our very first home and now we are preparing to build our first log home together. This will be our ultimate "dream home" — and boy, do I have a lot of great ideas saved for it!
I moved all of my favorite dream home ideas that would work well in a log home to a 3-ring notebook. 
This is what Version 2.0 of my Dream Home Idea Notebook looked like:
We knew from Day One that our first home would simply serve as a starter house for us. A place to establish some roots and further our careers, all the while fine-tuning exactly where we'd like to build our dream home and quite possibly retire.
So that's where we are now…
Dream House Idea Notebook Version 3.0
Our dream house is finally on the horizon and we can see it more clearly with each passing day. We've set the wheels in motion toward designing and building our custom log home together.
And my Idea Notebook has been a lifesaver!
It's filled with modern house design ideas (interior and exterior), cool home decorating ideas, and all of my favorite things seen in house plans, magazines, newspapers, and online.
Here's what Version 3.0 of my Dream Home Idea Notebook looks like now:
These are the categories I use for organizing all of my dream home ideas inside a 3-ring binder:
Bathrooms
Bedrooms
Kitchen
Doors & Windows
Porches
Laundry Room
Pantry
Closets & Organizing
Basement
Landscaping
Offices
Colors
Floors
House Plans
Garage
Miscellaneous Home Building Ideas
You'll notice that these categories are very similar to the ones I used for my colored file folders organized within a file box (Version 1.0 idea file above):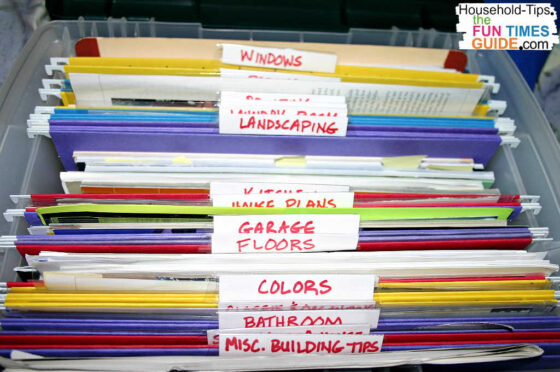 At this point, I'm exclusively using Idea Notebook Version 3.0 for our dream house design and prep work.
I'm using the colored file folders and file box to store all of the things that I may want to revisit sometime later (when adding-on, redecorating, remodeling, etc.) — but they're not likely to appear in our dream home right away.
Why I Love My Idea Notebook
It's easily adaptable to our changing tastes and house ideas.
I'm a very visual person — I need to "see" things in order to fully grasp them.
It makes it easier to relay to builders, designers, and installers exactly what you want.
It keeps everything in one place, where it's easy to find — just grab & go!
It stores away nicely and looks great on a bookshelf.
Yep, these days my Idea Notebook goes everywhere that I go!
It usually stays in the car. But I always have it handy should I need a measurement, a color, or a description for someone who's helping us make this home a reality — such as a bank lender, blueprint designer, or cabinet installer. Or, if my friends & relatives have a question or make a suggestion "on the fly," then I just grab the Idea Notebook and add it to my collection of great ideas.
Tips For Making Your Own Idea Notebook For Your Dream House
1. A 3-ring binder is best because it's so easy to add, remove, and move around pages. I like to use one that has a clear cover — so you have space to put the "most important" stuff, or even make your own Idea Notebook cover.
2. See-thru page protectors are the secret. They enable you to switch out pictures and ideas, as well as rearrange and prioritize your favorites. I like the heavyweight sheet protectors best — because they don't crinkle, they're easier to "stuff" a bunch of stuff down into, and they last longer.
3. Always keep blank paper and a pen in the notebook for jotting down cool house ideas on the spot — like when you're in a meeting with designers, or you're just out & about and you get a great idea. 
4. Use small sticky notes or removable adhesive tabs as temporary bookmarks AND as tabs to "label" ideas. The best part: you can keep changing your mind and move them around inside your binder as needed!
5. Keep a few empty page protectors in the 3-ring binder — so you can stuff random things in there temporarily (use them like file folders). Later, you can put those things where they go inside of your Idea Notebook later.
A Look Inside My Idea Notebook
There are lots and lots of "dreams" contained within the pages of my dream house idea notebook:
UPDATE: Check out my idea file today! (Yep, Idea Notebook Version 4.0)
Like this post? Save it to read again later… or share with others on Pinterest!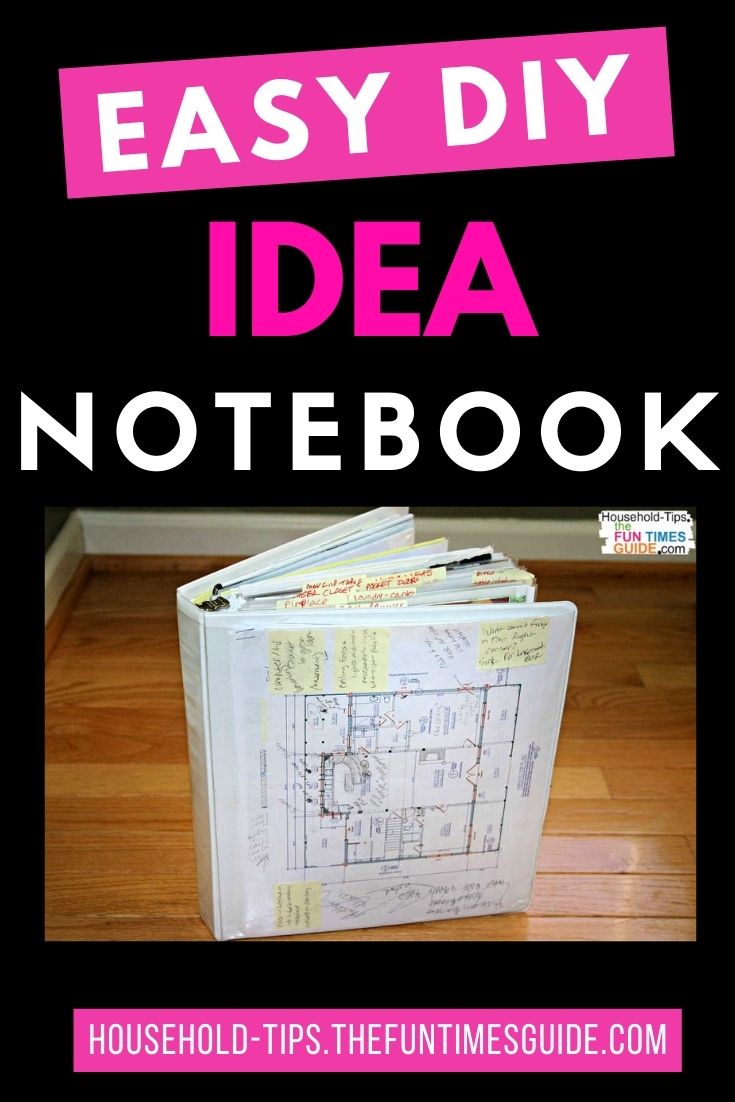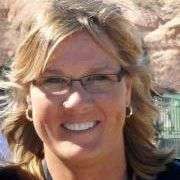 We've gone through the entire process of designing and planning every single detail of our dream log home! We have the blueprints… and the land… and the contractor… and the goal for our log cabin home to be our retirement home. Before you build (or buy) a log home, I have a slew of helpful tips for you — to plan, design, build, decorate, and maintain your very own rustic modern log home. When I'm not fine-tuning the log home of my dreams, you'll find me at the corner of Good News & Fun Times as publisher of The Fun Times Guide (32 fun & helpful websites). To date, I've written nearly 300 articles for current and future log home owners on this site! Many of them have over 50K shares.