This post may contain affiliate links. If you buy thru these links, we may earn a commission at no additional cost to you.
---
We have always known that we wanted to have an attached garage — ideally, a basement garage — in our new log home.
This wasn't going to be a problem when we were planning to build on a nicely sloped lot on Dale Hollow Lake. However, when we changed our mind and decided to build in Williamson County instead, the land wasn't nearly as curvacious.
For awhile, it wasn't clear as to whether we were going to be able to have a basement garage or not. But as it turns out, we can. In fact, we just received the final set of blueprints showing the detail for our attached garage in the basement.
While exploring our basement options, I learned a few things about the differences between attached garages vs detached garages vs basement garages. Here's what I found…
Pro's & Con's Of Each Garage
First, to be clear:
An attached garage is simply an extension of the home, usually sharing 1, 2, or even 3 walls with the house itself.
A detached garage is a freestanding building, sometimes it is connected to the home by a breezeway — which can be enclosed or open.
A basement garage is a "built-in" garage that joins seamlessly with the home's walk-out basement.
Attached Garages
PRO's:

Increased sense of security (compared to a detached garage)

Typically only the same level as the main living spaces like the kitchen (great, if you're carrying a lot of groceries)

Can be designed to architecturally blend with the rest of the house, often making the home look larger.

You have the flexibility of using log siding on the exterior of your garage, which would be cheaper than full logs (that you are probably using on the home itself).
CON's:


Codes in your area will dictate most features of your garage, including the walls & ceiling (must be fire-rated) and the height of the garage floor.
Detached Garages
PRO's:

Most expensive of the 3 options

Can be designed to look like the house, or not

Can be strategically placed to create a unique look for all of the buildings on your property

Provides the greatest flexibility for use of the the garage itself, as well as the space above it (think: workshop, hobby area, home office, or guest suite).


You have the flexibility of using log siding, instead of full logs, which would be cheaper.
CON's:

If connected to the home via an open breezeway, then high-pressure winds can create some serious turbulents on windy days.
Basement Garages
PRO's:

Most economical of the 3 options

Safest option where your personal security is concerned

Provides sheltered access to your home from your car


Land must have some slope to it
CON's:

Uses up valuable living space

Increases the distance you must walk from your car to the kitchen (with groceries, for example)

Careful placement of posts is required, if you choose to put a deck over the garage entrance.

Similar codes limitations, as mentioned with Attached Garages above.
And Don't Forget These…
Regardless of the type of garage you ultimately choose, there are a number of other things you will want to think about, including:
placement of outlets (for rechargeable tools & equipment, shop vacs, etc.)
shelves for storage of smaller items (tools, cleaning materials, paint, etc.)
open spaces for storage of larger items (lawn mowers, gardening equipment)
work sink or shower for muddy messes
full-size bathroom or powder room for convenience when you're outdoors or in the garage
floor drains for melting snow & ice, or water from cleaning out the garage
overhead storage or room space, depending on your needs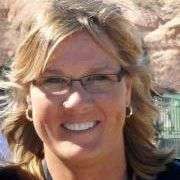 We've gone through the entire process of designing and planning every single detail of our dream log home! We have the blueprints… and the land… and the contractor… and the goal for our log cabin home to be our retirement home. Before you build (or buy) a log home, I have a slew of helpful tips for you — to plan, design, build, decorate, and maintain your very own rustic modern log home. When I'm not fine-tuning the log home of my dreams, you'll find me at the corner of Good News & Fun Times as publisher of The Fun Times Guide (32 fun & helpful websites). To date, I've written nearly 300 articles for current and future log home owners on this site! Many of them have over 50K shares.