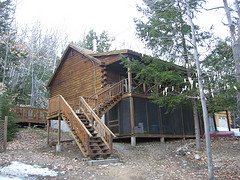 Did you know that you can actually build a log home without having to spend a lot of money?
One man built a log home for under $11,000! Yes, you read that correctly — he built a log home for his family for under $11,000.
Of course, he had to take his time with the project, and it took quite a bit of work. His story is amazing, and it just may inspire you to try building a log home of your own the same way he did.
Building a log home is a wonderful project, but just be sure that before you build you plan carefully! You don't want to make any mistakes while building your log home!
Measure twice and cut once, and along the way be sure that you did not forget to include something in your log home that you will definitely want to have later on — like a bedroom that is big enough for the king-size bed you might want to buy down the road or that second bathroom you just don't think you will be able to live without!
...