This post may contain affiliate links. If you buy thru these links, we may earn a commission at no additional cost to you.
---
This has been one of the hardest decisions for us to make…
We have dogs. And we know that we want hardwood floors in our soon-to-be-built log home.
But dogs can ruin beautiful hardwood flooring — in no time.
We know. Been there done that!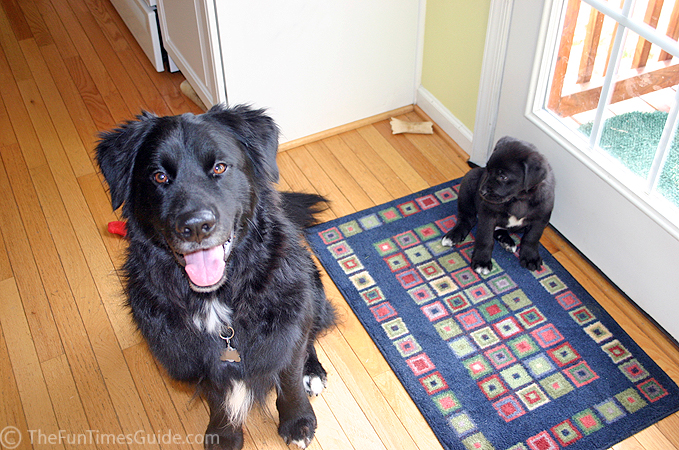 Our Current Hardwood Flooring
When we built the home we're currently living in, we chose hardwood flooring throughout the entire first floor.
As I've mentioned before, there were relatively few choices that were left up to us in the build process… so in this case, we basically got to pick "which shade of brown" we wanted.
It didn't matter. Because we were absolutely clueless about hardwood flooring at that time anyway. We ended up choosing a lighter shade of brown (more like "blonde") oak wood floor. It's solid wood, but it's not the most durable under the heavy feet of 2 (for awhile there, it was 3) 70+ pound dogs!
The hardwood flooring we currently have (seen in these photos) is Bruce hardwood floors – solid oak – natural – dura-luster plus (urethane) finish – 3/4″ x 2-1/4″
Wear & Tear From Dogs
The bad part: The doorway to the fenced-in backyard is through the kitchen — the showcase room for all of that beautiful hardwood flooring!
And worse yet: The section of flooring that's nearest the door has become extremely dented, pitted, and dirty in appearance — as a result of our dogs' repeated visits to the great outdoors.
It's partly our fault, because we taught our dogs to "drop" anything that they have in their mouth at the door, before they can go outside. Sometimes that's a stuffed toy, and other times it's a heavy bone from the meat counter at the grocery store!
Early on, when we were first training them to do this nifty behavior, the dents & pits weren't noticeable at all. It wasn't until a year or so of this type of activity that we started to notice that the dirt & grime had begun to accumulate inside of those dents and pits! And once it's in there, there's no getting it out.
Best I can tell, aside from refinishing the flooring, we're pretty much stuck with yucky looking hardwood flooring near the back door entrance in this house.
It's really hard to tell from these photos, but if you look close enough, you can see that the floor on the right is chipped, dented, and it looks kind of grimy where dirt and dust have settled into the cracks. The urethane finish has definitely been put to the test near the back door. In person, it's very noticeable.

Flooring in same room, away from door
The Best Flooring Choice For Dogs?
Now, fast-forward to our new, soon-to-be-built log home… and you can bet we've done some homework about hardwood flooring at this point!
While we still haven't decided on the exact wood or style we're going with, hopefully, we'll be able to find a hardwood flooring that will be better at withstanding years of normal wear & tear, plus the added heavy traffic from our dogs. (We know we're getting a darker wood this time. We have 2 black labs that shed a lot, and every little thing you can do to help "hide" that helps… even if it is just an illusion!)
At this point, we're looking at Hickory as the wood choice. And definitely a wider plank than usual. (We currently have 3/4″ x 2-1/4″ wood planks and they're just so small… and traditional.)
We also like the rustic, natural looking wood — that's already pitted & stained, yet still looks clean and new.
I'll be sure to add an update to this post once we make our final decision…
In general, here are some guidelines:
HARD WOODS: (most durable) oak, cherry, maple, hickory, elm, balsa, mahogany, sycamore
SOFT WOODS: (dent easily) birch, cedar, pine, redwood, fir, larch
What's the "real" difference between hardwoods and softwoods?
Q: Can dogs scratch hardwood floors?
A: Yes. Even with the new stronger finishes, a dog's nails can scratch wood flooring. The best prevention is to keep nails trimmed. Scratches can be repaired with a touch-up kit. If damage is extensive, you can lightly sand and apply a new varnish coat. — Bella Wood
UPDATE: There's a new type of flooring called luxury vinyl flooring — and it holds up really with pets and kids! It's waterproof and scratch-proof to resist claw marks and scratches. The luxury vinyl tiles look like real stone tile, and the luxury vinyl planks look like real wood flooring. Trust me, this ain't your grandma's laminate!
Here's a floor installer's review — including the pros & cons of luxury vinyl flooring.
Do You Have Any Experience With This?
Have you found a hardwood floor that is durable and holds up to the day to day traffic of dog paws?
If so, please do share!
Or, feel free to share any tips that you've learned, or things you've heard along the way. Anything you can add to this discussion of dogs and hardwood floors will save future home builders with dogs both money and frustration in the long run.
UPDATE: So… Which Floor Did We Pick?
Well, we still haven't built the new log home… yet. (It will happen one day.)
Instead, we found a great deal on a different house and we've been here ever since!
It might be helpful to know that our "new" home has red oak hardwood flooring throughout the entire first floor and part of the second floor.
We still have a dog, and the floors here still look great – after 6 years in this house!
I attribute that to a few things:
There's a thick coat of polyurethane on top for added protection — but we didn't install these floors, they were here before us.
We've only had 1 large 90 lb dog (instead of 2… or 3) in this home with us — during the entire 6 years that we've been here.
Our dog does not run on these hardwood floors — he'll trot quickly, but not run in the house.
The previous owners only lived in this "brand spankin' new house" for 6 months before we moved in — so the floors were in immaculate condition to begin with.
We care for and clean our hardwood floors very differently than we did before (in the photos above). Now we only use Bona hardwood floor products.
So yeah, I can safely recommend red oak hardwood floors if you have dogs.
But common sense still comes into play here. For example:
Harder woods are still better than softer woods — especially if you have a very large dog (or more than one dog, or dogs that tend to run on your floors a lot).
How you care for your floors has a lot to do with how well they'll hold up to dogs — and normal wear & tear.
Most of the problems we had with our natural oak floors (pictured above) were due to improper care and cleaning on our part. We used to use Pine-sol and water to regularly clean those floors. (I know, my heart drops every time I say that.) At the time, we simply didn't know how badly we were hurting our floors — it was our first house. As you probably know, water alone on hardwood flooring is incredibly damaging. And to top it off, we were basically stripping the floors with Pine-sol every time we "cleaned" them. We were pretty much begging for a dull, lifeless, and unprotected finish on those poor floors!
That was before we knew better. Now we only use Bona hardwood floor products — and trust me, it makes a huge difference!
You can see photos of our "new" red oak hardwood floors — and our 90 lb. dog — in these 2 articles:
Other Clever Tips If You've Got Dogs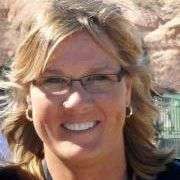 We've gone through the entire process of designing and planning every single detail of our dream log home! We have the blueprints… and the land… and the contractor… and the goal for our log cabin home to be our retirement home. Before you build (or buy) a log home, I have a slew of helpful tips for you — to plan, design, build, decorate, and maintain your very own rustic modern log home. When I'm not fine-tuning the log home of my dreams, you'll find me at the corner of Good News & Fun Times as publisher of The Fun Times Guide (32 fun & helpful websites). To date, I've written nearly 300 articles for current and future log home owners on this site! Many of them have over 50K shares.