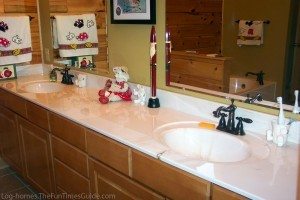 What follows are some of the unique features that we plan to incorporate into our log home's master bathroom.
One way to use this is as an "idea list"… to help you weigh out the pro's and con's of various bathroom features in order to ultimately determine your own "wants" and "needs" list for your own master bathroom.
Another way you could use this list is to think of these things as some of the most often overlooked items in master bathrooms.
It's certainly not a list that will accommodate everyone's personal bathroom design tastes, but it may get you started in the right direction.
[NOTE: This article is part of a series about bathroom design. Watch for new articles explaining each of the following items.]
#1 Shower? Tub? Shower/tub combo?
#5 A place to hang bathroom towels and robes
#6 Placement of light switches & electrical outlets
#7 Placement of the hot water heater
#8 Actual water heat & pressure
#10 How to store shower accessories inside the shower
#11 Proximity of the master bathroom to the washer & dryer
#12 Placement of the master bath in relation to the walk-in closet
#13 Proximity of master bathroom to other key areas
#14 Flooring issues in bathrooms
#16 Trash can vs waste basket
#17 Shower curtain vs glass door vs no door
#18 Nightlights
#19 A place for reading materials
#21 Placement of the walk-in shower
#22 Type of sink
#23 Type of toilet