This post may contain affiliate links. If you buy thru these links, we may earn a commission at no additional cost to you.
---
Composite doors have the same great look and feel as traditional wood doors.
Their construction, however, makes them far more durable. They're also affordable and very low maintenance.
Personally, I've always wanted a sleek looking wood front door on our log home — I've teetered between a Craftsman style door wood door and a beefy looking rustic wood door.
But after exploring the pros and cons of composite decks over wooden decks, I have to be honest. I can definitely see the benefits of having a composite door on a log home as well — especially as a front door, if it will be exposed to harsh weather or humid climates.
Here's why…
Wood vs Aluminum vs Composite Doors
Traditional wooden doors are, just that, made entirely of wood.
Aluminum clad doors with wooden cores are only mostly wood — and thus fare somewhat better.
Both types suffer from a variety of problems:
Water causes rotting and warping over time.
Insects can dig their way in, leading to premature deterioration.
In the case of aluminum clad doors, rust also rears its ugly head.
As the doors age, these maintenance problems are only exacerbated — sometimes becoming so severe as to pose a health hazard.
Composite doors (or fiberglass doors), on the other hand, typically have no wooden or metal components at all. Therefore, they suffer from none of these drawbacks. (Just be sure to look for fiberglass doors that do not have wood stiles and rails — because those parts will tend to absorb water and rot if they're not kept sealed with paint or varnish.)
Composite doors are relative newcomers to the home building & remodeling scene, but they're actually more versatile than the traditional types of doors that you're probably familiar with — like wood.
Exterior doors made of fiberglass have the look and warmth of wood, yet have the many of the durable qualities of steel. Fiberglass won't dent or rust like steel will and it won't crack, split, splinter or warp like wood. They also resist swelling and shrinking like wood doors do, when subjected to moisture and temperature changes. Fiberglass doors offer the same energy efficiency as steel doors, since many incorporate solid polyurethane foam cores that give greater insulating value than wood. They also have wood grain texture molded into the face of the door so they give the appearance of a real wood door when painted or stained. These doors are often the first choice for extreme climates. Fiberglass doors are impervious to salt, for example, so they are often employed in homes near the beach. Source
13 Little-Known Facts About Composite Doors
Why would you ever put a non-wood door on a log home, you ask?
Well, for one, you can't tell the difference. See for yourself!
If you like the look of wood, but don't want all the upkeep, try a fiberglass/composite door. Fiberglass doors can be finished to look like solid wood — with the grain and all! Source
In addition to the few points I've already mentioned above, here are some things that you probably didn't realize about composite doors:
They can be solid looking, or they can be partitioned with glass sidelights — just like wood doors.
Fiberglass doors come as singles, doubles, or as sliding doors.
With all composite doors, the exterior is typically made of fiberglass while the interior contains a polyurethane core. This exterior gives you the natural look and authentic feel of real wood, while the interior is immune to water and insect damage.
The durability of fiberglass doors is unmatched. They will not dent, rot, split, or rust.
Likewise, fiberglass doors don't shrink and swell like wood doors do when the temperature changes — so they won't stick in the summer or let in drafts in the winter.
The maintenance requirements of composite doors is incredibly low. Their color impregnates the entire exterior shell.
You can easily paint a fiberglass door, if you ever wish to change the color.
Compared to traditional wood doors, fiberglass doors are far superior in terms of their energy efficiency — thanks to the insulating foam inside (R6 for a fiberglass door vs. R2 for a wood door). Most composites are Energy Star rated.
Composite doors come in a wide variety of styles and finishes. They can be made to emulate oak, walnut, cherry, or almost any other wood.
Hardware for fiberglass doors is also offered in a variety of styles — from classic Americana to ultramodern.
Transoms (to add height to your doorframe) and sidelights (to create width or added interest) are also available with fiberglass doors. The stylistic choices are almost endless.
Composite doors cost the about the same to purchase and install as wood doors do.
Due to their lower maintenance costs and higher energy efficiency, fiberglass doors meet the needs of the most frugal and conservative home owner.
Fiberglass doors are generally less expensive than wood. Expect to pay about $200 for a 3-foot-by-6-foot-8-inch paneled door without glazing or hardware. The other accessories, however, such as glazing and hardware, cost the same no matter what material the door is made from. Fully loaded, a fiberglass entry system can reach $4,000, just like a wood door system. Source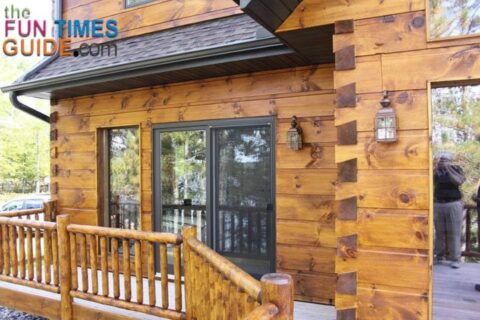 Overall, composite doors (or fiberglass doors) are definitely as good as — and in many ways better — than traditional doors on practically every single objective measure.
They would be a great choice for the savvy, cost-conscious log home owner.
The only downside I can see is this point made by This Old House:
Thinking of installing a fiberglass slab into an opening that's not square? Make sure in advance that you can make alterations. Some fiberglass doors can't be trimmed at all. Others can be trimmed only along the top and bottom. Even doors that can be planed on all 4 sides usually can't be trimmed by more than half an inch on each edge.
More Tips For Choosing Log Home Doors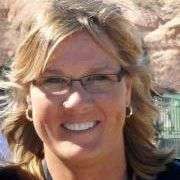 We've gone through the entire process of designing and planning every single detail of our dream log home! We have the blueprints… and the land… and the contractor… and the goal for our log cabin home to be our retirement home. Before you build (or buy) a log home, I have a slew of helpful tips for you — to plan, design, build, decorate, and maintain your very own rustic modern log home. When I'm not fine-tuning the log home of my dreams, you'll find me at the corner of Good News & Fun Times as publisher of The Fun Times Guide (32 fun & helpful websites). To date, I've written nearly 300 articles for current and future log home owners on this site! Many of them have over 50K shares.