This post may contain affiliate links. If you buy thru these links, we may earn a commission at no additional cost to you.
---
Odds are, if you're building a log home then you're probably going to have a fireplace.
I guess it would be kind of sacrilegious not to include a fireplace in your log home plans.
But, I've got to admit… I seriously considered not putting one in our log home.
Why?
Because my theory is that fireplaces are very much like swimming pools, hot tubs, treadmills, swing sets, and trampolines — you never end up using them as much as you thought you would.
I'm not alone… quote:
Here's a real estate riddle: What do most homeowners want even though they rarely use it?
Answer: a fireplace.
I'm speaking from experience here… as I stare directly at the awesome-but-seldom-used 2-sided fireplace that separates the living room from the kitchen in my current (non log) home. More on that below.

Declining Fireplace Sales
At first glance, these next stats seem a little bit dated, however they definitely reveal an ongoing trend:
The share of single family new homes with one or more fireplaces has fallen from 63%  in 1995 to 55% in 2005. The share declined in all regions. The largest decline came in the South region where the share fell from 64% in 1995 to 50% in 2005. Fireplaces seem to be most popular in the Pacific division where the share was 72%.  While the percentage of new homes without a fireplace has grown, the percentage of homes with 2 or more fireplaces has remained virtually constant at 5% in the last decade. — National Association of Home Builders
The share of new homes with at least one fireplace declined throughout the 2000s, down to 51% in 2009 – the lowest since it stood at 49% in 1974. In contrast, between 1986 and 2000, 60% or more of all new homes completed had at least one fireplace. Among homes completed in the first half of 2010, less than half of them (49%) had at least one fireplace. — American Homeowners Grassroots Alliance
As you can see, fireplaces are clearly on the decline in new home construction.
Whether this is due to non-use, space issues, or pure economics is unknown. But you would definitely not be alone if you chose NOT to have a fireplace in your home — even in your log home.
Although most would agree that a fireplace increases your home's value and 40% of home buyers are even willing to pay up to $1,400 more for a home with a fireplace, I think that holds true mostly for larger homes — not smaller starter homes or tiny log cabins — for the reasons that I go into at great length below.
Whenever things like valuable wall space or money are an issue, unfortunately the fireplace is one of the first things that must go.
All The Fireplaces We Never Used
The home I grew up in had a fireplace. I lived there for 15 years, and during that time we used the fireplace one or two times a year during the winter months. Eventually, my parents ended up removing the fireplace and replacing it with a solid wall. This eliminated the ongoing dilemma of having to deal with a leaky, drafty fireplace while having limited wall space for family photos and wall decor. Before and after:
After that, 2 of the 3 homes that Jim and I rented (before we built our first home together) had fireplaces. I can count the number of times we used those fireplaces on one hand. (Most of those times were in the first home we rented with a fireplace because it was so new to us — especially having a fireplace in Florida!)
I'll admit, those handful of times we used the fireplace were very joyous occasions (usually "special" occasions — like our anniversary, New Year's Eve, relatives were visiting, etc.), but that's no way to get your money's worth from a fireplace – right? Especially since it does cost a lot of money on the front end when you're installing a fireplace.
So… Fireplace Or No Fireplace?
When Jim and I were building our first home, we purposely chose NOT to include a fireplace, even though every other house on the block had one… and our builder was running a "special" where we actually got a FREE fireplace if we closed on our home by a certain day. We still said No… we didn't want the free fireplace.
Why?
Because we valued the wall space in the living room more than we valued the few times each year that we'd actually use a fireplace.
It can become challenging [determining where to place furniture] when trying to incorporate other features, such as fireplaces and entertainment centers, into the space. A fireplace still can be a focal point in the room, but be careful not to place it in an area that will make furniture placement awkward.
— Barry Hryciw, Drafting Manager, Linwood Custom Homes Ltd.
For the record, we were so thankful that we didn't get the fireplace — because we had a place to put our TV and related entertainment "stuff". Our only other alternative (in our open floor plan) would have been to block a window with those items or with the sofa. One of our neighbors, who has the exact same floorplan as us, says he regrets getting the fireplace for that very reason.
Now that we've moved out of that house and into another one (photos below), we are even more grateful for our decision not to put a fireplace in that first home we we built — because we now rent that home.
There's no denying that people tend to have a lot of "stuff". (So much stuff that many aren't even parking their cars in the garage anymore because the garage is being used to handle the overflow of "stuff".) The bottom line is: if a potential renter can't envision their stuff fitting in the rooms, they'll move on and look at other (larger) homes for rent. We've never had a problem renting that home, despite it being one of the few houses in the neighborhood that doesn't have a fireplace. As a bonus, the renters have been able to use every inch of space in the living room and to decorate without being limited by "all the space that the fireplace takes up."
I know people who'd give up the roof over their heads before they'd surrender their fireplaces. I understand their passion. Making fire is all about ritual, especially when the landscape dresses itself in browns, oranges and reds, and household flannels get pulled from cedar-lined closets.
—Mike McCarthy, editor of Log Home Living magazine
Our current home (the living room is pictured at the top of this post) has a 2-sided fireplace built into a faux wall that serves as a room divider. It separates the living room from the kitchen & dining room, and I love how functional the entire wall is. Fireplace or no fireplace, this wall is a focal point of the home and it's also super functional — with the big-screen TV, space for electronics & gadgets, and built-in bookshelves.
The other side of the wall looks identical, so the bookshelf is also on the lefthand side of the large cut-out space that's ideal for another TV, but I just put decorative items there. These pictures were taken before we moved in:
However, this is yet another fireplace that Jim and I don't use. But at least it looks nice, and the fireplace doesn't take up any valuable wall space.
Fireplace Design Ideas
Fast-forward to our current process of designing and building a log home (yes, we're still in the design phase).
Jim won't hear of it whenever I say I don't think I want to include a fireplace.
It's true that a fireplace gives a rustic home that "cozy" feeling. And I guess it would be fairly obvious if a log home had no fireplace. (Or would it?…) Plus, the log home that we're designing is quite large, so "giving up valuable wall space for a fireplace" isn't as much of an issue as it once was.
What it comes down to is this: when you are able to incorporate the fireplace size, shape, and materials into your home's design, it makes all the difference in the world. Even if you don't use the fireplace very much, it can be an attractive focal point the works with your personal style and home decor.
For example, by designing the fireplace and TV area to be more of a room divider (in a larger home — like the home we're in now and like the first set of photos below), you're actually enhancing the fireplace by making it more than "just an area of the wall that is devoted to a fireplace".
So even if you don't actually use the fireplace but a couple times each year, it's okay. It' not an eyesore, and your interior design and home decor don't suffer for it. Nor does the fireplace take up valuable space this way. You would still have 3 other walls on which to place the furniture, windows, and wall art.
Balancing the location of your hearth with window placement (for the view) and traffic flow (for your sanity) can be a tough call. After all, for many log home owners, the fireplace isn't just a gorgeous focal point, it's often a primary heat source. Most home owners will agree: err on the side of good heat distribution. The last thing you want to do is pay top dollar for a beautiful fireplace only to find out it's costing you an arm and a leg in fuel. — Log Home Design Magazine
One of the many log homes we've visited to get ideas for designing and building our own log home was the one pictured in this next set of photos. We toured the home with the general contractor who built it. One of the most eye-catching features of this log home was the custom 4-sided fireplace! It's 7′ x 5′ and 46′ tall with built-in shelves. The cost to build it: $36,000.
Some valuable insight from the contractor: he wouldn't recommend built-in shelves around a fireplace for practical reasons. In a "real" fireplace, that stone gets very hot! It gets too hot to accommodate placing anything reasonable on those surrounding shelves. Point taken.
If you happen to have a wall of windows in your home and a decent view out of those windows, don't overlook the possibility of putting the fireplace dead center in the middle of that wall of windows.
As a good example of that, check out these photos of the fireplace inside a friend of our's log home:
My Pick For The Best Log Home Fireplace
So, since I've resigned myself to the fact that we are going to have a fireplace in our new log home, the top 2 questions now are:
What type of fireplace?
What materials for the exterior style?
My current preference: a direct-vent gas fireplace with flagstone!
But more on that in a future post. I look forward to sharing what I've learned about the pros & cons of different types of fireplaces, the materials used for style purposes, and even the types of wood you should (and should not) be burning in your fireplace.
If you can't wait and you want more info about gas fireplaces right away, This Old House has the most helpful gas fireplace guide I've found.
Here are the biggest things you need to think about before deciding on a fireplace, along with some tips for choosing the right fireplace for your log home. The best takeaways, in my opinion:
The windows should take precedence over the fireplace because the real value is in the view, not the fireplace.
Think beyond the living room when deciding where to put your fireplace.
A stacked fireplace gives you a hearth on 2 levels of your home while using only one chimney.
With a gas fireplace that vents directly outdoors, you don't need to spend money on a massive chimney.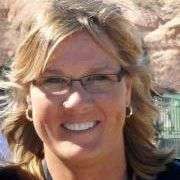 We've gone through the entire process of designing and planning every single detail of our dream log home! We have the blueprints… and the land… and the contractor… and the goal for our log cabin home to be our retirement home. Before you build (or buy) a log home, I have a slew of helpful tips for you — to plan, design, build, decorate, and maintain your very own rustic modern log home. When I'm not fine-tuning the log home of my dreams, you'll find me at the corner of Good News & Fun Times as publisher of The Fun Times Guide (32 fun & helpful websites). To date, I've written nearly 300 articles for current and future log home owners on this site! Many of them have over 50K shares.