This post may contain affiliate links. If you buy thru these links, we may earn a commission at no additional cost to you.
---
One of the questions I'm asked the most is "Why did you choose a log home?"
I usually give my standard answer — something along the lines of:
I like being different. I've lived in homes that resembled the majority of other houses out there. Through the years, I've studied the things I like and don't like, as well as the features I need and don't need in a home. These days, I would prefer to live in a one-of-a-kind home in a unique setting. That's my dream home.
And whenever you're given the opportunity to live out your dream, you do it. Right?
In order to help others decide whether log home living is the right choice for them, I've compiled a list of the top 30 reasons that I personally appreciate the log home lifestyle.
Reasons To Love Log Home Living
Log homes are more energy-efficient than traditional wood frame homes, so your utility bills are lower. A log home stays cooler in the summer and warmer in the winter.
Trees are a renewable resource. Therefore, logs are more eco-friendly than traditional homebuilding materials.
From screened-in porches to wrap-around porches (and any combination of the two), log homes are known for having porches, porches, porches! Ditto for balconies
Log walls are naturally thicker and more soundproof.
With an abundance of porches and balconies, you have a great opportunity to add character to the exterior of your home with some uniquely styled outdoor railings.
A log home is not "predictable" in any way. Visitors are always intrigued by your home's unique charming qualities.
With so many natural elements incorporated into a log home — like wood and stone — you're one with nature, both inside and outside of your abode.
Log homes typically include very elaborate outdoor living spaces with things like extra-wide wraparound porches perfect for rocking chairs, 2- and 3-story porches & balconies accessing various levels of the home, mega-sized screened-in porches for bug-free entertaining and relaxing, walk-out basements for easy entry and exit into the yard spaces, and multi-level patios great for sophisticated grill & kitchen spaces, as well as hot tubs, pools, and more!
You don't have to pick out paint colors and carpet when you own a log home.
A log home just "feels" different — both inside and out — but especially inside. It's more cozy, rustic, and "warm" compared to traditional modern homes. Old world charm meets modern convenience.
In a serene, picturesque, or remote country setting, a log home becomes the perfect accent for a unique piece of property.
You don't have to rent a log cabin in the woods to "get away" anymore — because you always feel like you're on vacation when you live in a log home. It's like being on vacation 365 days a year.
Most log homes feature open floorplans with very high, vaulted ceilings.
A log home is incredibly durable and able to withstand the wrath of mother nature — even better than traditional homes.
Log homes are notorious for incorporating a lot of natural light and floor to ceiling windows — often 2 or 3 stories high. I've always longed for a home that was situated in such a way that we could have at least one side of the home devoted to an entire 'wall of windows' with no curtains required.
Along those same lines, even screened-in porches are kicked up a notch with log homes — ranging from 2- or 3-story screened-in porches to extra wide screened-in entertainment areas.
When you live in a log home, you don't have to find a stud behind the drywall in order to hang pictures on your walls.
If you long for some color outside of the woodgrain throughout, it's easy to frame out a couple walls that you can paint for a fun 'pop' of color.
A log home is an heirloom to be passed down, even moreso than a traditional home.
Log homes lend themselves to mixing textures, hues, and metals for added dimension and style. Some ideas: black wrought iron & oil rubbed bronze metal accents, light and dark woodgrains throughout, and rustic or antique decor here and there.
Log homes are typically located in quieter, more remote areas with fewer people and less hustle & bustle going on in the immediate area.
Intricate staircases and railings are a common focal point inside log homes, particularly since many log homes are built around an open floorplan. In that case, the staircase and loft/balcony areas are viewable from practically every area of the home.
Even years (or decades!) after it was built, there's still a fresh wood smell inside.
A log home reeks of exquisitely beautiful carpentry throughout — with large beams, thick molding & trim, and hand-carved accents. Each of these is, in and of itself, a top-notch piece of art.
Log homes have an inherent craftsmanship and beauty built right in. For example, lofts, nooks, and built-ins are quite common. Not only do such features help to display all of the fine detail work, but they also add a unique charm and coziness to the home.
One of the decorating aspects that's unique to log homes is the ability to incorporate real log features inside the house — rustic full logs used as support beams, columns & pillars; twisted branches & twigs to form intricate staircase railings, and actual logs pieced together to form one-of-a-kind porch railings.
Grand fireplaces are the norm inside log homes, and it's not unusual to see 2- and 3-story fireplaces as the main focal point.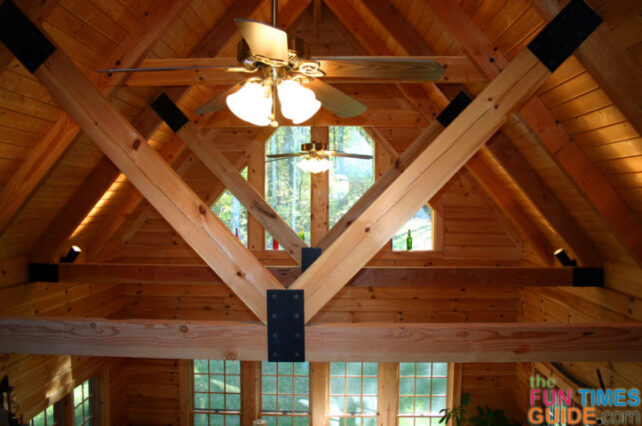 Your log home is a cozy gathering place for family members over the holidays.
A log home is a good investment, particularly since there are relatively few log cabins for sale at any given time.
A log home is more than just a house, it's a lifestyle!
So, if you too like to be unique — and the majority of the above statements appeal to you — then a log home would probably be a good choice for you as well.
Let me know if you think of any other things that you would add to this list…
More About Log Home Living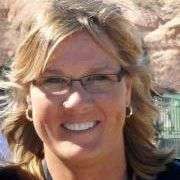 We've gone through the entire process of designing and planning every single detail of our dream log home! We have the blueprints… and the land… and the contractor… and the goal for our log cabin home to be our retirement home. Before you build (or buy) a log home, I have a slew of helpful tips for you — to plan, design, build, decorate, and maintain your very own rustic modern log home. When I'm not fine-tuning the log home of my dreams, you'll find me at the corner of Good News & Fun Times as publisher of The Fun Times Guide (32 fun & helpful websites). To date, I've written nearly 300 articles for current and future log home owners on this site! Many of them have over 50K shares.