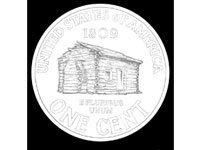 I found this interesting…
Despite the fact that the Log Cabin Society of Michigan has been trying (for the past 10 years!) to get a log cabin featured on a U.S. postage stamp — to no avail — the U.S. Mint has decided to put a log cabin on the U.S. penny!
Yep, with the hope of increasing the popularity of the penny, the government has decided to feature Abraham Lincoln's life on a series of U.S. pennies. At least one of the pennies will feature Abe Lincoln's first home: a log cabin.
This series of pennies is the government's attempt to encourage Americans to collect and spend more pennies.
This is similar to the statehood quarters which have been produced by the U.S. Mint since 1999 and will continue through 2008.
The new Lincoln pennies will start to appear in your pocket change in 2009. They are timed to commemorate Lincoln's 200th anniversary on the U.S. penny.

Did You Know?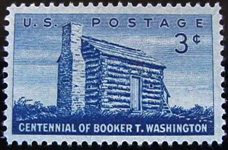 There was also a 3-cent U.S. stamp that featured Booker T. Washington's log cabin back in 1956.
The stamp was to commemorate his centennial.
In comparison, the Log Cabin Society of Michigan wants a stamp that features log cabins in general.
Sources:
Log Homes Illustrated
The Fun Times Guide to Coins