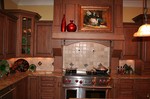 This set of photographs will give you some design and decorating ideas for your new (or soon-to-be-remodeled) log home kitchen.
Regardless of how you ultimately decide to decorate the kitchen in your new log home, one thing's for sure…
Your kitchen will probably include these items:
an island (with or without an eat-in bar)
appliances (microwave, refrigerator, stove, oven)
a sink (…or two!)
cabinets and shelves
windows
…among other things.
The following photos of log home kitchens will help you get a better idea of where to place the items within your own kitchen, including which styles, color choices, sizes, etc. look best inside log homes.
Enjoy!
Log Home Kitchen Photo Gallery
[Hover your mouse over photos to read descriptions. Click for larger view.]