This post may contain affiliate links. If you buy thru these links, we may earn a commission at no additional cost to you.
---
If you are considering meeting with a space planner or an interior designer to help you fine-tune the details and features that you plan to build into your new home, here are a few things that we've learned along the way…
1. What you'll pay.
Designers may charge a "consultation fee", a "flat fee", an "hourly rate" (anywhere from $50 to $100), or any combination of these.
Around here (Franklin, TN), most designers are offering a free one-hour consultation, and charging $50 per hour thereafter.
Typically, stores which sell flooring, countertops, cabinetry, and the like will offer their design services for FREE, as long as you purchase the materials from them when you build. If you decide not to utilize their designs, or you decide to purchase your materials elsewhere, then they'll charge you a flat fee — anywhere from $1,000 to $3,000 per room — for the designs they created for you.
2. How long it will take.
Don't rush the process.
We met with a few different designers 2-3 times (each) over a period of a couple months (each) before we were 100% happy with the layout we ultimately decided to incorporate into our log home. It's not unusual to meet with a designer several times over the course of 3 to 6 months before you "get it right".
Very early in the process, when we were still quite "green", we met with a couple of in-house designers at the local Home Depot. Had we chosen that route (to let the folks at Home Depot build and install our kitchen cabinets and countertops), then it probably would've taken a total of 3 or 4 meetings, I'm told.
3. Reasons to pay a designer.
Some people see this as an unnecessary (i.e. costly) step in the process of building a home.
Personally, I want more people than just Jim and I having a say in how our log home is designed. Because we are so "close" to it, it's harder for us to look at things objectively and it's harder to "think outside the box" when you've been seeing it in your head one way for so long.
Even if you don't pay a professional to assist you with this process, just having a fresh set of eyeballs look at the project is worth more than most people realize.
We've definitely gained some valuable insight from the many professionals (as well as the non-professionals) who have studied our blueprints. Each in their own way, has helped us to fine-tune various aspects of our home from the ground up.
The more people you share you plans with, the more you learn… and the more confident you feel with your ultimate design!
4. How it went for us.
We went back & forth a number of times when we were trying to decide on our kitchen layout & design, and the entire "right wing" of the house — which encompasses the master bedroom, walk-in closet, master bathroom, and laundry room.
So we started (very early in the process) by meeting with a local cabinetry store. We had a completely blank slate at that point. The only thing we knew was that we needed to find a clever way to incorporate the room spaces and overall functionality of the master bedroom / master bathroom / walk-in closet / laundry room. And we didn't have a clue as to where to begin.
Fortunately, these guys felt like tinkering with us on some basic ideas — which got us pointed in the right direction, if nothing else. We actually met with them twice, whenever we happened to be in the area checking out property for sale and getting to know the area better.
We didn't end up using the actual designs these guys had rough-drafted for us, but they certainly helped a great deal by making it possible for us to grasp various design ideas and think outside a box a bit. Had we carried on with our meetings and obtained actual design plans from them, they said their fee would have been around $1,000 — which would have been credited toward whatever cabinets and/or floors we purchased from them. We were happy with that arrangement.
In the end, we eventually obtained enough valuable feedback and ideas that we were finally able to put our ideas down on paper and have them drawn to scale. The following played an important role in the design of our log home:
A number of in-store designers (at various showrooms & design centers).
Our log provider (Honest Abe) and their sales rep Tonya who has always gone above & beyond to help make our dreams come true.
A number of general contractors we met with over the course of a year.
And our own gut instinct.
Here's a great article: Planning Should Start Early For Interior Design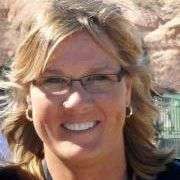 We've gone through the entire process of designing and planning every single detail of our dream log home! We have the blueprints… and the land… and the contractor… and the goal for our log cabin home to be our retirement home. Before you build (or buy) a log home, I have a slew of helpful tips for you — to plan, design, build, decorate, and maintain your very own rustic modern log home. When I'm not fine-tuning the log home of my dreams, you'll find me at the corner of Good News & Fun Times as publisher of The Fun Times Guide (32 fun & helpful websites). To date, I've written nearly 300 articles for current and future log home owners on this site! Many of them have over 50K shares.