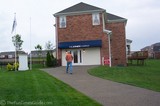 Since land appears to be so hard to find here in Williamson County, we've decided — at least temporarily — to consider existing homes as well.
We know in our hearts that we really want to build our own home though.
Still… we want to be able to say "we did our homework and explored all our options in and around Williamson County".
We want to be smart about this. So we'll try to see all that there is to see around here. If that includes existing homes, then so be it. We're open to the idea. (Boy, I never thought you'd hear me say that!)
We decided to start by scouring the listings at RealTracs.
For the record, we really love living in Williamson County, TN. We've lived in Williamson County (or WillCo, as I call it) for 4 years now, and we can't imagine living anywhere else.
We found a handful of homes for sale and we're looking forward to checking them out this weekend.
While we have absolutely NO desire to move into someone else's old home, the homes we've picked out have more land than we do — so they're definitely worth considering.
So now, our hearts are racing. We're eager to see what's available down this unexplored path!