This post may contain affiliate links. If you buy thru these links, we may earn a commission at no additional cost to you.
---
A Craftsman style log home?… Yep, our "bungalow" will be of the Arts & Crafts variety. Much like the very first Craftsman-style log home built back in 1918.
Arts & Crafts was an artistic and philosophical movement that began in 19th century Britain. Craftsman refers to a specific style of early 20th century American architecture that was part of the Arts & Crafts Movement. So Craftsman is actually a subset of Arts & Crafts." Source
Our Unique Style
Without a doubt, our log home will be more like a bungalow with some interesting angles, curves & unique hardware, rather than purely straight lines and squares.
The point here is:
A log home doesn't have to be like the old-fashioned log cabins of yesterday. And… you don't have to do things a certain way simply because "that's what everyone else does with their log homes".
Actually, my aim has been to find the baseline of "what everyone else does" in terms of log home roofs, windows on a log home, log cabin doors, furnishings & accessories typically used in log homes, and things like that…
Then, I set out to not do that. Or at least, to add my own twist on it.
Don't get me wrong… there's certainly nothing wrong with traditional-looking log cabin homes. I've just always been one who dares to be different. And I just don't want my log home to look like every other log home out there.
What does "every other log home out there" tend to look like? Your basic medium-tone brown stain on the exterior, a red or green metal room overhead, your basic straight lines and no curves, traditional windows with square panes, and wraparound porches.
In and of themselves, there's not a thing wrong with any of those things. It's just when every log home in the area looks like that… it gets kind of boring.
The Arts & Crafts / Craftsman Style Elements In Our Log Home
Truth is, we didn't set out to build a Craftsman style log home. It wasn't until we started fine-tuning the details like a big wooden speakeasy door with a dentil shelf (Arts & Crafts), prairie style windows (Craftsman), tapered columns and wide steps on the porches (bungalow) that we even realized we were gravitating toward the Craftsman style of home architecture and decor which encompasses all of these things — and more. I guess we weren't looking for a style, it just sort of found us.
Here's what we're planning right now…
For starters, we're going with an Arts & Crafts style door for the main entrance. You know… a thick, wood-planked door with 2 rows of windows & individual window panes up top and a slight curvature along the top row of windows. These are often referred to as "speakeasy" doors — where the top might open separately from the bottom. Or, it might have a tiny little hinged door opening in place of the traditional peephole. Or, there might be a smaller square window filled with leaded-glass up top — instead of the 2 rows of window panes. And sometimes you'll find "carriage straps" on the hinged-side of the door.
All of this just wreaks "bungalow" to me. And bungalow = casual fun (…in my opinion).
If all goes as planned, our front door will be a tad wider than most single-opening doors, as well. Thirty-six inches is the standard door size, but we prefer 42″ for the front entrance — simply for the purpose of making that chunky front door really stand out. Typically, you have to get an 8-foot door to get the 42-inch width. We'll see if we end up with a custom door or not.
For the windows, we're planning on prairie style windows at this point. However, they're a bit more expensive than the "standard" windows that we can get through Honest Abe directly. So the style of the windows is still to be determined.
We do know that we'll be using a few more "shorter" windows (think: higher up and square, rather than rectangle), instead of the traditional, longer ones that you see in almost every living room across America. They'll still open, allowing for cross-ventilation. They just won't look so boring.
Sidelights on either side of the door? Not in our house. Yeah, that's what everyone else is doing these days (even in log homes), but we prefer to hang some flickering gas lights there instead — to light up the 8-foot porch.
Another feature that is common in modern Arts & Craft style homes is the placement of a "dentil shelf" on the exterior of the door, or under windows. (Sometimes you'll even find them above the windows instead — especially near porches.) This is such a neat & orderly, yet "crafty" touch that I really like.
By careful placement of wood trim, windows and doors became part of the wall design." Source
We are also planning to include lots of wrought iron accents in our log home. Think: stair railings, door handles, drawer pulls, and more etc. It won't be overdone. But it will add yet another texture inside the home (…and maybe on the railings of our decks & porches as well).
Perhaps the only obvious non-Craftsman style element of our log home at this point is the gabled entrance. It's not multi-dimensional with various roof pitches as most bungalows are. Instead, the pitch is quite steep — and underneath the tall gable/overhang are a series of very large, trapezoid windows (which are typical in log homes).
But the steep and traditional rooflines are just something that we're willing to live with. (Like I said, dare to be different.) In the back of our log home, there's a bit more dimension and depth, but still not really true bungalow style. Had we known earlier that we were heading down the Arts & Crafts style path, we probably would have re-designed it a bit to get those interesting roof lines and deep overhangs with the eaves.
Our Unique Take On The Arts & Crafts Style
Other features that I see as more "bungalow" style and less "log home" style in our log home are:

An informal & casual style (we don't want a "perfect" looking home, but rather a "lived-in" look with roughed-up floors, natural-looking walls, and modern cottage-looking furniture)

The use of natural elements (lots of stone and tile butting right up next to all of the wood)

Exposed beams and rafters (there's lots of heavy timber inside our home, and on the porches)

Wide open porches (we've got plenty of 'em… front, back, up & down. And ours are different from traditional log home porches in that there will be two or more "levels" of continuous decking in the back of the house.)

Built-in cabinetry (think: furniture-looking cabinets & rustic hutches instead of linen closets and vanities)

And, if Jim has his way… possibly a green or deep gray tinted stain for the exterior of the home. (I have to admit, some of the greens look surprisingly attractive. I'm just not sure I'm willing to commit to a color yet.)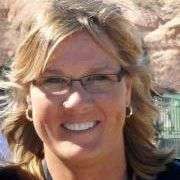 We've gone through the entire process of designing and planning every single detail of our dream log home! We have the blueprints… and the land… and the contractor… and the goal for our log cabin home to be our retirement home. Before you build (or buy) a log home, I have a slew of helpful tips for you — to plan, design, build, decorate, and maintain your very own rustic modern log home. When I'm not fine-tuning the log home of my dreams, you'll find me at the corner of Good News & Fun Times as publisher of The Fun Times Guide (32 fun & helpful websites). To date, I've written nearly 300 articles for current and future log home owners on this site! Many of them have over 50K shares.