This post may contain affiliate links. If you buy thru these links, we may earn a commission at no additional cost to you.
---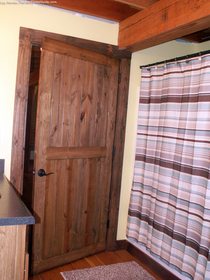 The number and placement of bathroom doors is one thing that many people tend to overlook — until it's too late.
Of course, it's also important to consider the actual style of doors used in a bathroom, for instance… pocket doors.
I've learned a few things about the style and placement of bathroom doors that might save you some headaches later on — especially if you're able to address these things before you build.
Number & Swing Of Doors
Personally, I like the most spacious, least amount of doors possible.
For example, I currently have a Texas style bathroom layout — with the tub in the center of the back wall, 2 closets (one on each side), then another closet behind the entry door.  So, there's a total of 4 doors in my bathroom.
With all those doors, it gets crazy sometimes just to get in and out of the room and to access the closets!
This is an example of where pocket doors would have made more sense.
Things You Should Know About Pocket Doors

One thing I've learned is that contractors do not like pocket doors.  I guess they are harder to install.
But from a customer's standpoint, that is what I want.  So for me, I will just plan ahead noting the issues that contractors have mentioned to me in the past.
Pocket door installation is a great project that will give you an average of 10 square feet of floor space than a traditional hinged door. — Tim Carter, Ask The Builder
Some things to think about with pocket doors include:
Make sure there is no plumbing or electrical wiring that needs to be in the wall where the pocket door would slide into.
Don't plan on hanging anything on either outside wall — because the nail or wall anchor may stick out and hit the door when it slides.
Make the wall with the pocket door a 2×6 wall. Most bath walls are 2×6 anyway (they're called plumbing walls). That will also allow you to possibly have a little storage cubby in another area of the 2×6 wall.  For example, there are kits you can buy that are perfect for storing your toilet scrubber, magazines, and extra rolls of toilet paper next to your commode.
More About Pocket Doors
I've been working in and around log homes for most of my adult life. I truly enjoy helping people plan, design and decorate their log homes — inside and out!