This post may contain affiliate links. If you buy thru these links, we may earn a commission at no additional cost to you.
---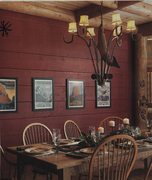 I love idea of painting log walls. I really like color and am not afraid of putting it anywhere.
I have seen several log home companies displaying homes that have a painted exterior color.
For example, the pale green home with white trim that is pictured here is from Heritage Log Homes.
Beautiful, don't you think?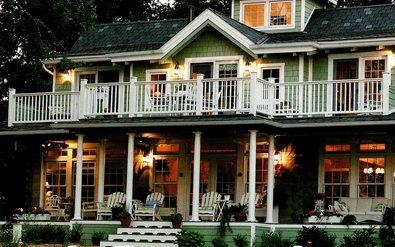 If you're thinking about painting interior log walls or the exterior of your log home, there are a few things to consider first…
Before You Paint Log Walls
I would strongly recommend testing your colors first on some extra pieces of wood.
Stain color can vary greatly, depending on how you apply it.
Use different techniques to obtain a transparent look where the grain of the wood still shows. Or, try thicker coats to give it a true painted (non-transparent) look.
Worst case scenario… if you hate it, you can always cover it with log siding.
Actually, using log siding on your log home walls for color is a good way to go. And if you hate it, it is easier to replace the log siding wall versus covering a full log wall.
Typically, log homes have interior framed walls that can be covered with matching log siding, so you may want to paint the log siding walls only.


Examples Of Painted Log Walls
There are lots of options when it comes to painting the interior log walls of your home.
Imagine a beach cabin with a light blue stain painted on the ceilings, with bright white rafters and trim.
A little girl's room could be pretty in pink or purple.
I have also seen a lavender bathroom in a log home that was absolutely beautiful!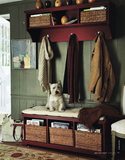 Fun Painted Trim Colors
Rather than painting full log walls, I have also seen people paint the trim in their log home so it will complement the furniture that is used throughout the home.
For example, black is a popular color with furniture these days, so painting your trim in black would really bring out any black furniture pieces, cabinetry, etc.
The best part: trim is also something that is easy to replace if you decide years down the road that you want a different color.
Wood Stain vs Painting Log Walls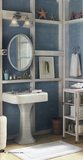 You can actually use a variety of wood stains to stain log walls. When using stain (instead of paint), the natural grain of the wood will still show.
But, if you want it to be solid, more like a painted wall, then you can use a paint of any color. Just remember, you will still need to seal the painted wall with a poly.
This will make it easy to clean.
Where To Find The Best Stains & Paints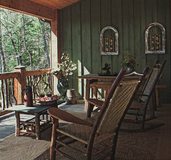 Minwax has a variety of beautiful stain colors. They even have some stains that include the sealer, so you can stain the interior walls a nice color with just one coat and you're done!
I used Minwax alot when staining the wood furniture I used to sell at my store, so I am partial to it.
Olympic makes a variety of wood stain colors as well. And they offer great tips for choosing the right Olympic stain color.
I have also seen people use semi-transparent stains from Porter Paints. They are really good to work w
ith, and they help you determine the right color.
Your best bet is to visit your local paint store or a home improvement store like Lowes or Home Depot where they have a wall of stains and color options. Lowes is probably the best source for Minwax or Olympic wood stains.
Fortunately, all of these companies offer satisfaction guaranteed on their products, so you should not have any issues with purchasing from them.
If you are simply looking for a wood tone or clear, then definitely the best source for interior stain for your log home would be from Permachink or Sashco. It's just that they do not offer any "fun" colors.
And if you're going with a clear color, both Permachink and Sashco offer a non-yellowing guarantee on the interior stain, which is a plus.
Here are some tips for staining your log home's exterior.
I've been working in and around log homes for most of my adult life. I truly enjoy helping people plan, design and decorate their log homes — inside and out!