This post may contain affiliate links. If you buy thru these links, we may earn a commission at no additional cost to you.
---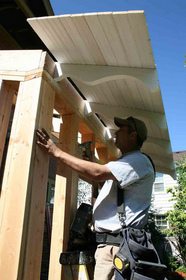 Log siding homes have been around for a long time, it's just that most people want the solid log wall system if they really like log homes.
Typically, log siding is a 1-inch material that is the same species of wood as your logs.
That way, wherever you use the log siding, it matches perfectly with the logs.
The best part: log siding is not very expensive, especially when you consider that you can install it yourself!
Following are some tips for working with log siding, plus lots of fun ways to use log siding in other projects around the house…
How It Works…
1. You frame a home (or any structure) conventionally with 2×4 or 2×6 studding.
2. Cover that with OSB and a house wrap like Tyvek.
3.Then install the log siding over top that.
The log siding is tongue & groove, so it is easy to install.
You would also need to insulate the interior wall, and then finish it with log siding as well. And all window and door trim (as well as inside and outside vertical corners) must be installed prior to the log siding.
The Downsides…
There are several more steps of labor involved with the log siding wall system versus using full logs, since the wall is created as each log is stacked.
Also, it's worth mentioning that you actually have a better energy efficiency rating with the solid log wall than a log siding wall.
Visit the Log Home Council for detailed info on this subject.
More About Log Siding
Log siding comes in any shape you want:  flat or rounded.
If you are using log siding on the exterior of a home, you can easily trim it out with cedar and it gives nice finished corners and contrast around windows and doors. It's a really nice look!
The siding will need to be cleaned, treated, caulked and stained — just like solid logs wall systems.
Two of the best log home stain companies are:
Most log home manufacturers sell log siding and tongue & groove wood in linear footages. The material has already been kiln dried and is ready for use.
If you are remodeling or building a new home project, log siding is a great product indoors or out!
Fun Ways To Use Log Siding

Log siding is also great for "extra" projects around the home like:
dog houses
sun rooms
pump houses
garden sheds
planters
to finish basement block walls
dining tables or coffee tables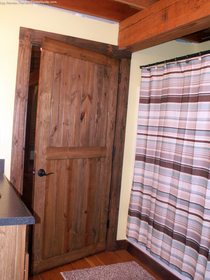 Log siding can also be used to make beautiful interior doors.
For example, the bathroom door pictured here was built from 1×6 tongue & groove wood.
Another popular idea is to use log siding to create false beams in order to hide lighting, plumbing or duct work within your log home.
I've been working in and around log homes for most of my adult life. I truly enjoy helping people plan, design and decorate their log homes — inside and out!