This post may contain affiliate links. If you buy thru these links, we may earn a commission at no additional cost to you.
---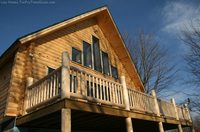 One of the hardest decisions Greg and I had to make was whether to build a handcrafted log home or a manufactured log cabin kit. 
If we waited another 3-4 years, we would have the money to build the custom log home — which is generally more expensive.  But ultimately, our need to have our log home dream now and the discovery of the affordability and flexibility of the log cabin kit sealed our fate.
We purchased our log cabin kit from Hiawatha Log Homes and it was the best personal decision for me and my husband. 
Let's review the differences between a manufactured log cabin kit and a handcrafted log home… 

Handcrafted log homes are produced from whole logs by artisans. The logs are then hand-peeled and notched individually.   This type of home requires more intense labor than a manufactured log cabin kit thus it's more expensive. 
The pros of this type of log home is the versatility and uniqueness with your floor plan. You can have all the nuances such as spiral staircases, a breakfast nook and so much more. 
Log cabin kits use logs that are milled uniform in shape and then are cut to fit together.
The benefits of using a log cabin kit are highlighted below.

Step-By-Step: Choosing A Log Cabin Kit

Our provider offered log styles of 8", 10" and 12" diameter full round or D-style (flat on the interior, round log on the exterior) with full log corners.  We chose the 10" diameter full round Norway Red Pine log. 
The joinery styles that were offered: tongue & groove and Swedish cope.  We liked the aesthetics of the tongue and groove for our logs.
Next we had to choose from one of their stock floor plans.  Dependent on the log home company you use, you can make modifications to the floor plan. Greg and I chose the "Tall Timbers" model and made changes such as increasing the size of one bedroom and one bathroom and also removing a wall in the loft to open it up.  We also had Hiawatha do a preliminary floor plan for our walk-out basement for when we finish it in the future.   The ability to make these changes made us feel like we had our own "custom home."  Obviously, you have to be careful with your changes as they can add cost to your log cabin kit.
The log cabin kit packages can come in "shell" condition, "select" or turnkey. (Sometimes they have different names for their packages such as weathertight.)  This means that each selection has a certain amount of materials. 
You can't compare apples to apples cost with log cabin kit providers until you see all of the items they include.  We chose a "select" package and had our builder pick up the roof, side doors, tongue and groove wood for the interior walls at a savings to us. 
Lastly, another important thing that made us feel comfortable in deciding on our log cabin kit was the fact that our provider was a member of the Log Homes Council (LHC). This meant that they followed the LHC's criteria of the logs being certified grade and that they adhered to the LHC's Code of Ethics.
Ultimately, your choice to build a custom log home or a manufactured log home kit comes down to your budget, flexibility, timing, and must-haves. 
Greg and I are happy with our decision to use a log home kit.  And we are thrilled to be living our log home dream NOW.
My husband and I both dreamed of owning a log home one day. To us, the log home represented a return to the simple life — a connection with nature and really just a lifestyle. After 4 years of dreaming, planning, attending log home shows, and cutting pictures out of log home magazines, we finally realized our dream of building a log home in northern Michigan.