This post may contain affiliate links. If you buy thru these links, we may earn a commission at no additional cost to you.
---
If money were no object, which posh amenities would be on your wish list?
These are some of the things that Jim and I have always talked about including in our dream home. They would definitely be on our list:
Home theater room – Your basic movie room with comfy theater seating where you can recline and prop your feet up, surround sound, and individual cup & snack holders. Plus comfy floor seating & sofas too!
Spa shower room – All tile for the shower, no shower door, dual shower heads, 2 seat benches, and lots of built-in wall cubbies for shampoos, separate jacuzzi tub with ledges (for candles, music, books, towels, etc.) and a separate door for the toilet (it's much more practical when someone needs to access the bathroom sink, shower, or closet area while someone's using the toilet).
A 2-car garage and a completely separate 1-car garage (both fully attached to the house at different places, rather than all 3 garage spaces in a row together) – Now that we've lived in a home with this setup, we can't imagine our dream log home not having this unique design. The 2-car space remains clean and neat since it only houses the 2 cars and serves as our primary entrance. The bonus 1-car garage houses all of our outdoor lawn equipment (riding lawn mower, push mower, edger, weed wacker, chainsaw, spreader, aerator), gardening supplies, paint supplies, camping gear, fishing poles, and bicycles. It's also a great place for all the miscellaneous items that we never had a place for (spare freezer, spare refrigerator, and everything that you would typically find in a broom closet and cleaning pantry).
Skylights in the roof – Jim is afraid they'll leak. I say the chances are slim and the extra natural light is a huge bonus. I'm all for bringing the outdoors in — in as many ways as possible.
Whole house hepa air filtration system – We currently have a couple of small hepa filter units, but they pale in comparison to what a whole-house unit could do. You just have to remember to do this early in the home construction process.
Built-in fogless mirror for the walk-in shower – This will replace the aftermarket fogless mirror that we've been using. It will be much larger and will have a defogger built into it, so it will defog the mirror in much the same way as the rear window in your car.
Mudroom at the garage entrance – We've never had one. Instead, we tend to junk up the garage door area that leads into the house with all our shoes and coats. The kitchen counter becomes the default drop-off spot for things like mail, keys, and sunglasses. Note to self: we also need enough space in the mudroom for 2 chairs so we can both sit down while we're putting on our shoes & boots. Oh, and by the way, there will be no washer & dryer in my mudroom (nor in my basement). In my opinion, if you're gonna spend hours at a time doing laundry, you need a space devoted specifically for that purpose that is practical and functional in design. 
Separate his & her walk-in closets with built-in shelving (rather than wired or aftermarket) – If not completely separate closets, then at least a large enough room to have a partial wall between the 2 sides to differentiate his side from her side and to help hide temporary closet clutter, shoes, and dirty laundry that may be piling up.
Large walk-in pantry that's hardly noticeable – Ideally, it will be a smallish room of its own (rather than a closet) and will have lighting, electrical outlets, and plenty of floor to ceiling shelving built-in (rather than wired or aftermarket shelving).
Extra large porch swing – No, not just any porch swing (for my wraparound porch). The one I have in mind is a large porch swing that's wider, longer, and roomier — almost like a bed. (It would look great next to my hanging table!) This extra large porch swing is pretty nice too. And this rustic porch swing would work especially well with a log home.
Barn with a light pole – You know how some people imagine the day that they will have a red door on their dream home? Others dream of building a log home instead of a stick home someday. For Jim, his dream has always been to have a home with a barn and a light pole. It could even be an old dilapidated barn just as long as there's a street pole. (Sometimes it's the little things.)
Man cave – In our case, this is likely to be Jim's home office decorated less like an office and more like a sports den. He's content to have any space that's mostly his. The 3rd garage is another space that he would love to turn into a workspace/man cave of sorts, but then all of our everyday cleaning, gardening & yard stuff would need to find another home — and that's just not practical.
Fun Things Also Worth Considering
While we're talking it, if money were really no object, then I'd probably include these items on the list as well:
Towel warmers in the bathroom – Yes, they're barely necessary… but fun. Honestly, I'd love to have one of these outside near the hot tub for those freezing winter nights!
Decorative air vent covers and floor registers throughout the house – I think every house I've ever lived in had plain white vent covers throughout the house. In some homes, that looks really nice. In others (like a log home), decorative covers would be more appealing.
Ceiling fans in every bedroom and larger rooms – Usually, they're only installed in the master bedroom and living room during the time of construction.
Nicer switch plates and outlet covers – The downside is maintaining a consistent look throughout the home; plus there are so many of these in a house. I would either like to get better-than-plastic more decorative ones, or possibly even tile or stone ones to match tiled surfaces like bathrooms, showers, and kitchen backsplash.
Double farmhouse apron sink for the kitchen – I love this look!
Built-in iron gates strategically placed in key areas – instead of using cheap baby gates for puppy training and for keeping dogs out of certain rooms. They would also come in handy if you have young children in the home.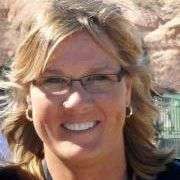 We've gone through the entire process of designing and planning every single detail of our dream log home! We have the blueprints… and the land… and the contractor… and the goal for our log cabin home to be our retirement home. Before you build (or buy) a log home, I have a slew of helpful tips for you — to plan, design, build, decorate, and maintain your very own rustic modern log home. When I'm not fine-tuning the log home of my dreams, you'll find me at the corner of Good News & Fun Times as publisher of The Fun Times Guide (32 fun & helpful websites). To date, I've written nearly 300 articles for current and future log home owners on this site! Many of them have over 50K shares.