This post may contain affiliate links. If you buy thru these links, we may earn a commission at no additional cost to you.
---
If you're thinking of building a log home and you're torn between one or more log home companies, then it may come down to the 'little things' when it comes time to make the decision of who will build your log home.
For us, we had narrowed our choices down to Southland Log Homes and Honest Abe Log Homes. (Check out all the comments generated about Southland here.)
When we got down to the nitty gritty details that take place behind the scenes when building a log home, all signs pointed to Honest Abe Log Homes as the best company to build the log home of our dreams.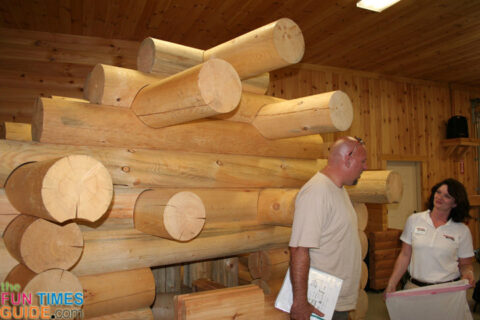 Here are some of the reasons why…
Honest Abe Log Raising
I had never been to a log raising before this one.
A log raising is where the log home company shows you from start to finish the process they go through when building a log home. They actually erect a playhouse-sized log home right before your eyes… indoors… in a large conference room… on their premises.
It was an eye-opening experience for me, in so many ways.
We went to an Honest Abe log raising and learned the following random tidbits about how Honest Abe builds log homes.
Some of these things we specifically asked about. Others were simply gems of info that they revealed to everyone at the event.
I figure if I found these things interesting, then someone else might too. So I'm sharing them here.
For the record, many of these things weren't at all important to me at first — early in the process of deciding to build a log home and designing its unique features. But most of these things became increasingly popular as we got farther along in the process and we began to anticipate the delivery of our logs.
These are the notes I took at the Honest Abe log raising event:
How Honest Abe Builds Log Homes
The heavy timber is Douglas Fir — which takes 3 to 4 guys to physically lift. They use spikes here.
White pine is used for the log walls. It's lighter weight and cheaper. Specifically, eastern white pine is most common — because there is less twisting and it holds up better. White pine is very stable, and it stains well.
In 30 days, liquid nail dries and will strip the wood if you remove it. (No gasket/screws or dowels are used to allow for warping & settling over time.)
They use Log Builder caulk by Sachco.
They start logs on a seal plate/termite shield.
They use spray foam around the windows, door frames, and corners of the home.
Olylog screws (which allow for logs to move slightly during shrinking) are placed every 24 to 26 inches of log spacing — 4 inches from each end. There are 800 to 1,200 Olylog screws in a log home.
Gasket tape goes between each row of logs — down the center — urethane gasket
All 16-foot logs are placed by hand; never by crane.
Logs weigh 2 pounds per foot, so a 16-foot log weighs 200 lbs.
There are staggered butt joints throughout, so no 2 logs start and end at exactly the same place in adjacent rows.
There's a 1/2-inch channel around doors and windows to allow for wiring to be hidden.
Electrical plugs go 16 to 18 inches off the floor
On on a heavy timber roof, a heavy timber roof vent includes 2 layers of 2-1/2-inch insulation. (R15.6 per layer of insulation alone x 2 = R34 for the complete roof when put together.)
The non-heavy timber roof parts require insulation on our part, not provided by Honest Abe.
There is a standard 2-foot overhang on the roof.
They use 30-pound felt roof paper.
They use western red cedar roof outer parts.
Round pine railing isn't standard, it's an optional upgrade.
Steps off the porch and posts under the porch are not provided by Honest Abe in the building package.
It's not a load-bearing ridge beam.
Price includes double-hung Low-E windows and window trim (which must be painted outside).
Baseboards and ceiling trims are included in the log package price.
For the electric, they prefer to 'surface trim' rather than drill at the timber itself.
Plumbing should be place in a framed wall only, not a log wall.
A 65-foot trailer delivers the logs 2 to 4 weeks prior to your building start date. They use a loader and the wood is placed on the high side of the foundation. (You pay the truck driver on site.)
Materials arrive on pallets and are covered to protect them from the elements. (You may want to move the doors and windows into the basement or a separate storage area — even though they're covered too.)
You pay for the Honest Abe labor to frame and build the home once they're done.
Fall/Winter is the best time to build.
The Honest Abe laborers are sub-contractors. They are eager to raise a home; it usually takes 3 to 4 weeks total.
We need to clean and pre-treat the logs first. (Use bleach +water: 3 parts water and 1 part bleach). Spray or brush it on using a medium bristle brush to scrape spots. Log stain companies (like Permachink and Sashco) also make good log cleaners.
Included in the log package price, Honest Abe gives the logs one treatment after cleaning them. It's colorless and protects against insects and termites that eat into the wood, but not carpenter bees or wood bees. (TIP: If you spray WD40 into the hole, it will kill carpenter bees.)
You will want to stain the logs by adding a clear top coat that gives the logs some UV protection. Over time, if water doesn't bead up, then it's time to restain your logs. Typically log home owners will restain every 3 to 4 years, but it's largely determined by how much direct sunlight your log home receives on a daily basis. You can restain over the top coat
Do NOT pressure wash the logs. It will affect the grain of the wood.
Cracks and checks don't affect the structure of a log home at all. Expect some cracks and checks in the logs. TIP: If water can get in or lead to windows, then you need to seal those areas with Check Mate log check sealant.
More photos and details from this Honest Abe log raising event.
P.S. In the end it was a very productive day and I learned a lot. They also gave us a tour of the mill and answered any questions we had.
Honest Abe Log Homes Log Raising and Mill Tour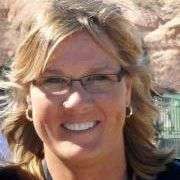 We've gone through the entire process of designing and planning every single detail of our dream log home! We have the blueprints… and the land… and the contractor… and the goal for our log cabin home to be our retirement home. Before you build (or buy) a log home, I have a slew of helpful tips for you — to plan, design, build, decorate, and maintain your very own rustic modern log home. When I'm not fine-tuning the log home of my dreams, you'll find me at the corner of Good News & Fun Times as publisher of The Fun Times Guide (32 fun & helpful websites). To date, I've written nearly 300 articles for current and future log home owners on this site! Many of them have over 50K shares.