This post may contain affiliate links. If you buy thru these links, we may earn a commission at no additional cost to you.
---
We've been working with Honest Abe Log Homes for well over a year now.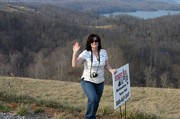 At first, we just had a lot of questions about log homes in general, and the sales rep at the Murfreesboro office (Tonya Hallman) always had the answers. She really helped us by pointing us in the right direction.
Once we were determined that our next home would be a log home, we did a lot of research and we met with a handful of log home companies. The closest runner-up in our search for a log home builder was Southland Log Homes.
A Little Attention Goes A Long Way
I would attribute our decision to go with Honest Abe mostly to the over-the-top dedication and drive that we saw in their sales rep, Tonya Hallman. Folks, this girl doesn't stop!
I'm not talking about "selling" you… or "trying to close the deal"… or anything like that. No way. I'm talking about the level of personal attention we have received from Tonya from Day One.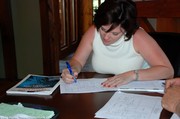 And I've seen her give the same attention to her other clients, as well.
There's something to be said for the down-to-earth hard worker who truly believes in the company and knows enough about log homes to steer you in the right direction for the things that Honest Abe themselves don't provide — like a G.C., some log furniture companies (including Keepsake Imports and Rocky Top Furniture), even a roofer that has a great track record with other Honest Abe log homes. The list is endless in terms of the number of ways that Tonya has gone above and beyond to assist us.
Not to mention all of the times she went door & window shopping with us — usually on her days off. Combine that with all the visits she has made to our property, all of the log homes (under construction or recently built) that she took us to — for examples and ideas, and all of the times she was available to meet us at our home or her office… and you've got one hard-working sales rep!
Tonya's also been with us through 2 different properties now. First, when we were intending to build out at Dale Hollow Lake. And now, that we're building here in Leiper's Fork, TN.
Our Thoughts About Honest Abe As A Company…
We've met with everyone from Rachel (in financing) to Doug (the owner) to Megan (the designer) and a number of the mill workers at the company headquarters in Moss, Tennessee.
Plus, we've spent a good deal of time discussing options with the sales reps at both the Murfreesboro sales office and the Cookeville sales office.
And without a doubt, everyone has been sooooo helpful and easy to work with.
And ours has not been an easy project to tackle either! We came into this with our own idea of what we wanted our log home to look like. And they were always willing to work with us — overtime — to help us design and finance this custom log home. Some parts (like combining different roof pitches, and satisfying the bank's requirements) weren't always easy.
You can certainly tell that customer service is the #1 priority at Honest Abe Log Homes. And for that we are grateful.
We are so happy with our decision to let Honest Abe build our log home. They will actually be doing all of the dry-in work as well. At which point, John Roach, our general contractor will take over. (Though he's pretty much stepped up to the plate already.)
We're very fortunate to have found them all: a log provider, a builder, and a general contractor that we are completely comfortable with.
…Stay tuned as we progress through the building process!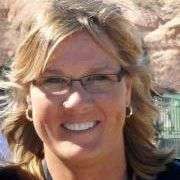 We've gone through the entire process of designing and planning every single detail of our dream log home! We have the blueprints… and the land… and the contractor… and the goal for our log cabin home to be our retirement home. Before you build (or buy) a log home, I have a slew of helpful tips for you — to plan, design, build, decorate, and maintain your very own rustic modern log home. When I'm not fine-tuning the log home of my dreams, you'll find me at the corner of Good News & Fun Times as publisher of The Fun Times Guide (32 fun & helpful websites). To date, I've written nearly 300 articles for current and future log home owners on this site! Many of them have over 50K shares.