This post may contain affiliate links. If you buy thru these links, we may earn a commission at no additional cost to you.
---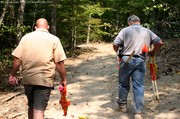 I am thrilled to announced that we have officially hired a G.C. to oversee our project from start to finish!
And we couldn't be happier with our decision.
…It's been a long time coming.
As most of you know, we've been in this process — trying to find a G.C. — well over a year now.
Of course, half of that time we were looking for GC's in the Clay County area (when we were going to build on Dale Hollow Lake), and half the time we were looking for GC's here in Williamson County.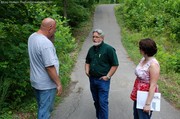 All I know is, the moment John Roach entered the picture, things started falling into place… quickly! From the very day we met him and interviewed him as a potential G.C., we had a great feeling about him.
…And you know how important first impressions are!
Our General Contractor Goes Above & Beyond
In the months that followed after that first meeting — even though he hadn't signed a contract with us yet — John never once hesitated to meet us at the property, meet us at Honest Abe's office, or meet us at our own house to discuss our log home plans. Half the time he would be the one to initiate these meetings. He always wants to make sure that we are 100% satisfied with things.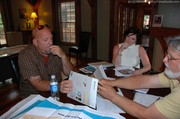 Not to mention the dozens of times he has driven out to our property on his own to familiarize himself with something, or meet a sub-contractor out there to quote a different aspect of the job, or help Jim and I mark the home's footprint with posts & tape (…and then all of the rooms in the dirt with spray paint!). All of this was prior to knowing whether we were going to choose him as our G.C. or not.
We Are Lucky To Have Found A GC With These Qualities
I really like John because he is so hands-on with your project. And you can tell that his heart is really in it.
He "sees" what you see… as if he will be the one living in this home. Plus, he really owns the project from start to finish. We could tell that he had committed to memory the details of our home inside & out way before he really needed to know these things. But that's just the way John does things — he jumps in feet first, and he never looks back… from Day One. He's definitely a hands-on kind of guy.
Folks, John Roach is exactly the type of person you want for a General Contractor. We feel so fortunate to have found him (…thanks, Tonya!).
John Roach
Blackhat Construction
Franklin, TN
(561) 251-7045
John has been a contractor for nearly 30 years. His experience is diverse, and there's hardly been an aspect about log home building that he hasn't known the answer to. But when he doesn't know for sure, he's the first to say so, and he'll give you a name & phone number of someone who would know the answer to your question.
One of the things I like best about John is the fact that he's so even-keeled, especially under pressure. And… he's positive and upbeat, no matter what. His personal energy level and professional work ethic are two of his best personal qualities, and he transfers those into his work as well.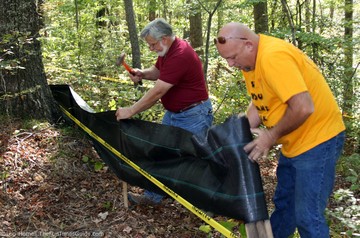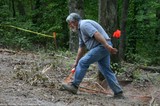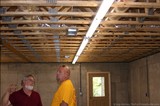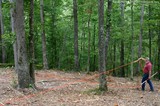 Oh, and I really like how he offers a lot of ideas and makes suggestions along the way. Which is incredibly helpful, since he's been through this process a heck of a lot more than we have! Most other GC's, designers, etc. have simply said, "Whatever you want… it's all a matter of personal taste." Sure… but sometimes, you just want to hear an outside opinion once in awhile.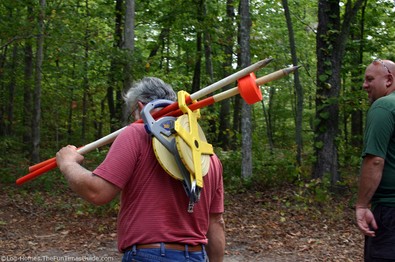 Best General Contractors In Middle Tennessee
Of all the other GC's we personally consulted with with along the way, there are only two that we met with at length that we seriously considered hiring to build our log home. We highly recommend:
Richard Wilkinson
L&C Custom Homes
PO Box 137
McMinnville, TN
(931) 931-2122
Our Notes: A very likable guy. Incredibly knowledgeable about log home construction. Comes highly recommended by others who've hired him to be their G.C. He does a lot of high-end log homes. His work is impeccable — as is his worksite… very clean. Richard is incredibly busy and we feared he wouldn't be able to give us the personal attention we desired. We never once doubted the quality of his work though.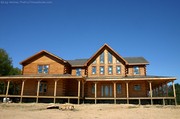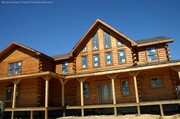 Roger West
Roger West Construction
1204 Henson Road
Red Boiling Springs, TN
(931) 258-4450
Our Notes: A very sweet and docile man. He prefers to concentrate his attention on only one log home at a time. Two would seem to stretch his resources (sub-contractors). We visited a couple of the log homes that Roger built, and they are to die for. The quality is way above par. Overall, I think Roger would be a great G.C., and while your project might take a tad longer, you would definitely have his personal attention the entire time, as he always returned our phone calls right away. I have to say, it was difficult for us to get creative ideas or personal input from him though.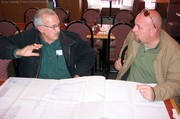 Other Dale Hollow Lake Area Contractors
We met with a couple of other GC's when we were considering building out on Dale Hollow Lake. But we don't feel nearly as comfortable recommending them for one reason or another:
Kevin McCaleb
J & S Construction
1080 South Willow Avenue
Cookeville, TN
(931) 265-1020
Our Notes: They specialize in commercial construction and have a wonderful reputation in the Cookeville area. The "catch" is… despite how much they tell you they are willing to build your log home for you, it's the first thing they'll try to talk you out of. They tried to talk one of our friends into building a stick-frame home instead. When we initially spoke with J&S (after hearing this), we were upfront and said we didn't want to waste their time or ours if they knew they weren't willing or able to build a log home for us. They insisted they'd be happy to build our log home… so we met, and all seemed to go well. They had everything they needed to give us a quote. We never heard back from them again.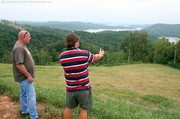 Lloyd Wright
Wright Angle Construction
240 Milk Barn Lane
Cookeville, TN
(931) 498-2143
Our Notes: Nice guy. Low-key and soft-spoken. At the time (August 2006), he was new to the area and also new to building log homes. He seemed fairly comfortable with the general construction questions we asked him, but he wasn't at all familiar with log home details.
Looking For A GC Near Center Hill Lake?
If you are considering building in the Center Hill Lake area of Tennessee, then you may want to consider this General Contractor: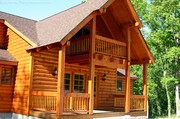 Jim Ackerman
Cabin Fever
Center Hill, TN
(615) 642-8455
Our Notes: We met one couple on the weekend they were moving into their new log (sided!) home, and they said they were very satisfied with him as a G.C. We have never met Mr. Ackerman however.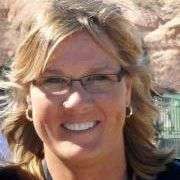 We've gone through the entire process of designing and planning every single detail of our dream log home! We have the blueprints… and the land… and the contractor… and the goal for our log cabin home to be our retirement home. Before you build (or buy) a log home, I have a slew of helpful tips for you — to plan, design, build, decorate, and maintain your very own rustic modern log home. When I'm not fine-tuning the log home of my dreams, you'll find me at the corner of Good News & Fun Times as publisher of The Fun Times Guide (32 fun & helpful websites). To date, I've written nearly 300 articles for current and future log home owners on this site! Many of them have over 50K shares.