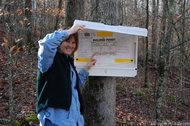 Perhaps the first 'official' sign that construction is about to take place on our new log home site: the posting of the Building Permit!
Unfortunately, this day in Williamson County, Tennessee was filled with just as many highs as lows — emotionally speaking.
You see, last night we had some very destructive storms (including an EF2 Tornado) pass through the Leipers Fork area — near where we are building our log home.
The Highs…
Yesterday, we picked up our Building Permit from the county.
It was a Tuesday. It also happened to be Super Tuesday… Fat Tuesday… and the former date of IHOP's Free Pancake Tuesday (this year, because of Super Tuesday stealing the spotlight, they switched it to February 12th).
So, a lot of people (including us) were on a serious high yesterday. What a fun day it was!
Then Everything Came Crashing Down…
Fast-forward a couple of hours, and all of the local weather reporters were suddenly warning that severe weather was on the way. Before long, the pictures and all of the tragic stories started pouring in (video). Jim and I were glued to the TV from about 9pm when the storms began until way into the morning hours when they eventually ended.
The closest the tornadoes got to us, was about 10 miles away from where we live now — very close to our log home building site. Specifically, there were tornadoes in Leiper's Fork (Pinewood, Lamply, and South Harpeth roads were the worst affected areas). Then more tornadoes in Fairview, TN — just a few miles further down the road. In all, over 30 homes were destroyed in Williamson County.
At the point where the storms were nearest to us, Jim and I got spooked by all of the tornado sirens going off in downtown Franklin. We put our dog on a leash, placed our medicines, cellphones, flashlights & important papers into a duffle bag, and ventured outside to see what we could see.
All the while, we were prepared to jump back in the house and crowd ourselves into the powder room if we sensed danger — because that is probably the safest interior room in our house. (Jim says the garage, because it's on a cement footing, but I think it's the powder room… so who knows where we would've actually ended up. I WISH we had a bathtub on the first floor, because we'd huddle in there with a mattress over our heads, if I had my way!)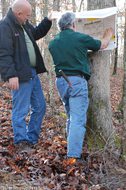 Our new log home will have a basement. And I have to admit, we designed the basement into our home primarily for aesthetics reasons. That, and to have a space just to hang out. But I never realized how truly thankful I would be to have a basement… until now.
Historic Log Cabin Damaged By Tornado
One twist to this story that might be interesting to log home enthusiasts is the fact that the Wynnewood Mansion, which is the largest existing log structure in Tennessee, was hit hard by the tornado and it's mostly still standing. The roof is gone, but much of the log structure remains. It's located in Castalian Springs (Sumner County), Tennessee. Andrew Jackson stayed there a few times.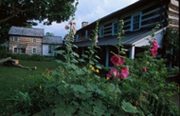 Watch a video about the Wynnewood Inn and the damage it sustained from the tornado. (Here's another video about the tornado including highlights of the Wynnewood historic building.)
Photos of the Wynnewood Inn in Castalian Springs, TN… after the tornado.
The Morning After…
The morning after we got our Building Permit (also, the morning after the storms), we drove out to our property to see if there was any damage in our immediate area. There wasn't.
We were actually behind the electric company brigade en route to the areas that were hit the hardest in Leiper's Fork, TN:
We went through several areas in Leiper's Fork that had been deeply affected by the tornadoes. It was very sad. I didn't take pictures of peoples' personal tragedies. But I did snap a few photos of downed trees and power lines that we came across: mouse over photos to read captions
RELATED:

Tennessee Tornado Damage And Homeowners Insurance (Tennessee Farm Bureau appears to be one of the most reputable insurance agencies in this area.)
How To File An Insurance Claim After A Tornado Strikes
A Tornado Climatology Of Middle Tennessee
List Of All Natural Disasters That Have Ever Taken Place In Williamson County, TN. (It needs updated with yesterday's, of course.)
There's Been A Tornado… What Happens Now? (Safety tips for before, during and after a tornado.)
I like to help people find unique ways to do things in order to save time & money — so I write about "outside the box" ideas that most wouldn't think of. As a lifelong dog owner, I often share my best tips for living with and training dogs. I worked in Higher Ed over 10 years before switching gears to pursue activities that I'm truly passionate about. I've worked at a vet, in a photo lab, and at a zoo — to name a few. I enjoy the outdoors via bicycle, motorcycle, Jeep, or RV. You can always find me at the corner of Good News & Fun Times as publisher of The Fun Times Guide (32 fun & helpful websites).
...