---
This post may contain affiliate links. If you purchase through these links, we may earn a small commission at no additional cost to yourself.
---
Looking for a great way to add extra space to your log home, while still staying within your budget?
If so, then I would recommend considering a walk-out basement.
Here's how we decided to add a basement to our log home floor plan…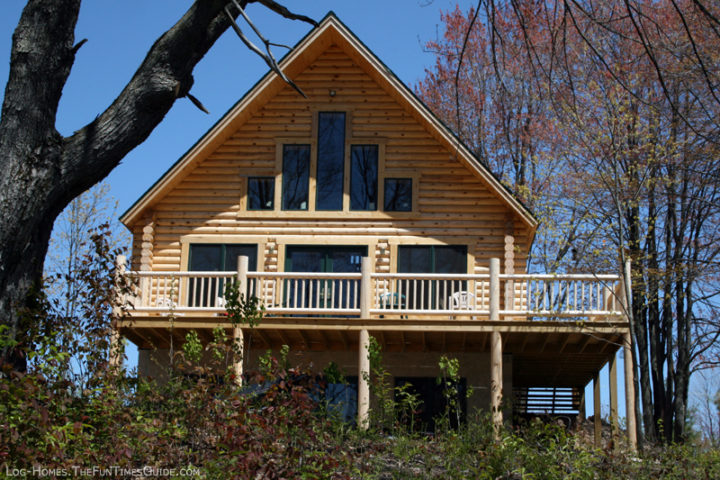 When Greg and I were looking at our floor plan options with Hiawatha Log Homes, we wanted to stay in the 1,500 square foot range.
How we came up with this square footage was by factoring in the cost of materials and the price per square foot to build a log home.
How To Build A Basement On A Budget
Obviously building costs can vary state to state, but starting with quotes to add a walk-out basement from at least 3 contractors should get you off to a good start.
When I was trying to do a very rough estimate for our log home basement costs, I found a very helpful tool called the Log Home Cost Calculator on the Log Home Advisor web site. It gives you a good estimate for log home construction costs.
In our case, I asked Hiawatha give us a quote to "bump out the log cabin" a few extra feet because I was looking to get a little closer to our 1,500 square feet, without going over.  But still, I wasn't sure if this was meeting our needs to create more space for entertaining in our living area.
So we started thinking again about how we would use our floor plan. I was concerned that our main level would not be roomy enough for larger family gatherings.  It was soon after that when I read in Log Home Living Magazine that adding a basement was an affordable way to create extra space.
Adding a basement made sense for us and it was a perfect way to take advantage of our sloping land.  Also, we liked how the walk-out basement option would create more daylight in the basement and make the basement itself seem more like traditional living space.
In the end, we spoke to our builder (Rich Construction – 408 S. Court, Gaylord, Michigan, Phone# 989-350-1327) about the type of basement we would need for our sandy lot.  Going with a concrete block basement was approximately $2,500 less than a poured basement, and it still met our requirements.
Now that our log cabin has been built, the exterior front wall is currently coated with a cement mix and will later have faux stone affixed to it.


Reasons To Add A Basement
I mentioned a few of the reasons to consider adding a basement to your log home above:
a way to take advantage of your property's natural slope
a way to add more living space
a way to bring more natural light inside the home
There are also a number of different ways that a basement can be utilized.  Dependent upon your lifestyle and your needs, here are some ideas for ways that you can use your walk out basement:
We are personally using a combination from this list
1. Recreation room (for a media center, bar, pool table, wine cellar, etc.)

2. Living room space

3. Extra guest bedrooms (You will need to add an egress window to meet your city's code.)

4. Extra bathroom (We added a second full bathroom – easy access for someone coming in from the lake into the sliding basement doors.)

5. Laundry room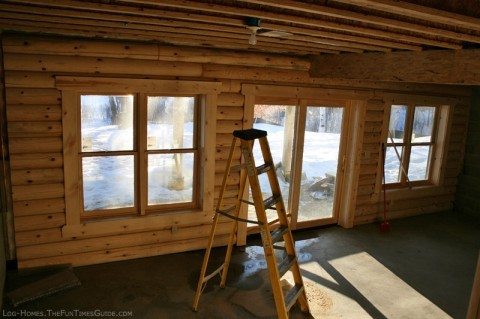 We are currently very excited to have our basement finished.
That extra square footage has bumped us to 2,400 square feet at a very affordable cost.
Additionally, our builder had the great idea to use our extra logs and put them into the interior front wall of the basement in order to continue our "log theme."
Good luck with your log home basement!
My husband and I both dreamed of owning a log home one day. To us, the log home represented a return to the simple life — a connection with nature and really just a lifestyle. After 4 years of dreaming, planning, attending log home shows, and cutting pictures out of log home magazines, we finally realized our dream of building a log home in northern Michigan.