This post may contain affiliate links. If you buy thru these links, we may earn a commission at no additional cost to you.
---
Log home or not, there are a number of things that I've always known I want to include in my next home.
Years ago, I started jotting those things down on pieces of paper, and I stored them in the back of my idea notebook.
Eventually, I transferred them all from chicken-scratched memos into my computer for permanent record-keeping and organization.
When it was all said and done, I organized each item by room within the house — and placed that list in the appropriate section of my Idea Notebook. That way, when it came time to design the bathroom, for example, I had everything I needed all in one place — our "wish list" right next to pictures and ideas I'd saved from magazines and websites, etc.
Following are some of the things that I want to try to incorporate into my next home…
While I began saving and documenting exactly what I wanted in my dream home many years ago, some of the things on my list I was fortunate to be able to incorporate into the first home we built together — a traditional stick frame home in Franklin, Tennessee.
But it wasn't until we had lived in that home for over 6 years, moved into another (larger) home with a floorplan to die for, and spent a significant amount of time browsing through magazines and photographs that I felt confident that I knew, once and for all, which features I really want (or need) in our "dream home" …our soon-to-be-built log home.
That said, I'm constantly learning new things and updating the items listed below.
Here's my list…
Better kitchen and bathroom sink faucets & fixtures — ones that show fewer fingerprints and water spots. And ones that are easier to clean behind & around. We'd like to actually be able to fit our hand (and a sponge!) behind the faucets in order to clean in and around them.
Covered porches — wide and plentiful, especially across the entire backside of the house. Standard porch width is 6-foot. We'd like at least 7-foot, maybe even 8-foot wide porches. The ideal scenario would be wrapping porches across the back and sides of the house, but that's more of a luxury than a necessity.
Preferably one porch with a bit of an "enclosed feeling"… more like a room than an open breezeway. While a screened-in porch would be great, this area doesn't necessarily have to be screened in.
Ceiling fans on the porches — there's just something "homey" yet "outdoorsy" when you take the inside OUT onto the porch, in my opinion. While outdoor ceiling fans are typically one of the last decorative items added to homes, I'd just prefer to include them on the front-end.
 Decks & porches with railings — and the ability to add a (nice) baby-gate type of closure at the top of the steps to keep our dogs from leaving the porch at times (like when the yard has just been treated, or it's raining, or there are children playing near our fence).
No more WHITE — the best part about going with a log home is that our color schemes will now be in the browns… rather than the whites! We currently have white baseboards, white trim around doors & windows, white crown molding, white countertops, white cabinets, white stairway railings, white toe-kicks, white grout, etc and it's not fun to keep clean. I'm eager to see darker hardwood floors, darker baseboards, darker window & door trim, and darker walls (just a tad). Remember, we have 2 dogs… and they're black!
Lots of windows — preferably without the need for curtains. If we can afford it, tinted glass would be nice. If not, then standard blinds or shutters are perfectly fine in places where curtains are absolutely necessary.
 Lots of south-facing windows — for energy efficiency and abundant natural lighting.
Attached garage — as opposed to a separate breezeway to the carport or enclosed garage. That said, a separate breezeway to a separate "3rd car garage" is ideal, if that 3rd car garage is not otherwise attached to the home. In our current home we have the ideal scenario, and we would like to replicate it. The 3rd car garage is accessed from a door in the kitchen. The 2-car garage is accessed from a door on the other side of the kitchen. We use the 3rd car garage to store all of our lawn equipment and outdoor supplies. It's been a godsend!
 Laundry room on the same level as the master suite — I'll never understand how people can enjoy doing laundry when they have to trek basketfuls of dirty clothes all the way to to the laundry room (either in the basement, or far from the main bedrooms) and then carry all of the clean laundry back to the main closets & bedrooms.
Larger laundry room —  a room, rather than a closet. Ideally, there will be some counter space for folding clothes, as well as shelves & cubbies for storing laundry supplies, and racks for hanging clothes to dry.
Larger master bedroom — with 2 adults and 2 dogs cohabitating in the master bedroom (the dogs in large crates), we're tired of bumping elbows (and paws) and barely being able to turn around in a room we spend so much time in.
Big master bathroom — we've never had a bathroom big enough to accommodate 2 adults getting ready at the same time. Two sinks are a must, as is plenty of counter space and cabinets for storage.
 Separate makeup area — one luxury item that I've had in most places we've lived, and I would have a hard time doing without now, is a separate counter space (with no cabinets below), so I can sit and do my hair & makeup.
 Master bathroom with windows that open — for ventilation and to prevent mildew. We've never had opening windows in our bathrooms, and it gets far too stuffy in there.
Internet and cell phone coverage is a must — some of the areas we've explored have been in more remote areas where high-tech is not an option, but our jobs (and our current lifestyle) require these things; this influenced our choice of lots
A wall of windows — another luxury item — preferably on the back of the house. I've always dreamed of having an entire wall with windows up high placed atop lower ones, and/or higher windows atop full-glass doors to the patio/deck area. That's the closest you can get to bringing the outside in on a daily basis, in my opinion.
Majority of windows must open & have screens — to allow for cross-ventilation in all rooms of the house. Ideally, there will be windows on both sides of the house that are covered by a porch or balcony, so we can keep the windows open when it's raining and still get a cross breeze.  While I initially considered casement windows (that you crank to open), I've decided against them.
 A place to hang a large flat-screen plasma TV on the wall — most likely above the fireplace, where it's viewable from all corners on the main level.
Kitchen designed for practicality rather than "the norm" — this would include a larger kitchen than most log homes have, as well as an island that is larger than most. Along these lines, the dining room must be next to the kitchen; not separated from the kitchen in any way. The absolute worst scenario, in my opinion, is having a formal dining room near the front door, as is quite popular these days. We have that scenario in our current home, so I turned the formal dining room into a "sitting room". It's a nice greeting area near the front door, and it's way better than trekking food all through the house between the kitchen and the formal dining area. I want to eat by the kitchen… not by the front door!
An open kitchen layout — It's important to me to be able to easily access the kitchen from the garage entrance, the dining room, and the living room. Ideally, we'd be able to see the TV from the kitchen as well.
No more "cutesy" shower curtains — they're a pain to keep clean. We prefer tiled showers with glass doors. In our master bathroom shower plans, there's no door at all. I call this "my YMCA shower." It's more like a tiled shower room with a bench & built-in shower compartments that are wide enough to accommodate large, wide & tall shampoo and bubble bath bottles. (No more over-the-showerhead shampoo holders.) And believe it or not, after having a super-luxury jetted tub, I am confident that I don't need a jetted tub in my dream home.
Large walk-in closet in the master bedroom — this would prevent us from hijacking every other closet in the house with our summer/winter clothes and other odds & ends. Preferably, the master closet will have built-in shelving, lots of hanging space, and a "his" and "hers" side. And we'll need at least 1-2 outlets in the master closet to run an air purifier on occasion and/or vacuum cleaner.
Dimmer lights in most rooms — we have dimmers on a couple of lights in our home now and we use them a lot. One place I wish we had dimmers is in the bedroom (preferably an overhead ceiling fan with light and remote control) to avoid having to get out of bed to turn off the light. Of course, a lamp on the nightstand takes care of that too, but then you need larger than normal bedside tables and more space on either side of the bed to accommodate them.
Ceiling fans in most rooms — and on the porches too. Ceiling fans are often an after-thought. I'd rather plan for them early. And I've always regretted that our guest bedrooms have never had ceiling fans. Guests are much more comfortable and feel at home when they can adjust their own room temperature.
Recessed lighting (on dimmers) wherever possible — recessed lighting is great because it's up and out of the way. In a home with active dogs, lamps on tabletops are not ideal. Making the overhead lights dimmable simply accommodates any mood or situation.
Classier mirrors & lights in bathrooms — those huge, wall-sized, borderless mirrors add nothing to a bathroom's design. Ditto for the above-the-sink row of vanity light bulbs. I prefer purchasing unique decorative mirrors for the bathrooms, or at least adding crown molding around large wall-sized mirrors. As for bathroom lights, I'm aiming for decorative light sconces.
 Abundant natural light in the master bathroom — florescent lighting doesn't work in a bathroom. Pearl incandescent lights are better, but natural light is best. Preferably, we'll have a way to bring in the morning light to the fullest extent — maybe high up windows that can always remain open & uncovered.
A simple way to drop dirty clothes in a hamper — if it's not simple and easily accessible, then we won't use it and I'll be picking up clothes all over the house. Ideally, we'd have a pass-thru area from the master bedroom or bathroom or closet directly into the laundry room (or a laundry chute).
Garage wide enough for 2 cars and 1 motorcycle — with the ability to get items (like a child, groceries, boxes, and other wide loads) in & out of the car while it's parked in the garage. In addition, there must be enough space to park 2 adult bicycles with ease. Finally, if there's no mudroom just inside the door, then we'll need enough space in the garage by the door for dog leashes and for 2 adults to sit down and put shoes on, store coats & gloves, and apply sunscreen, etc.
Tall & narrow storage in the kitchen — I've learned that an often overlooked aspect of kitchen storage is having a way to store things like aluminum foil, plastic wrap, cookie sheets, baking pans, and other long, narrow items where they will be easily accessible. I've found that large, shallow drawers in the kitchen work well for this purpose — as do taller than normal cabinet spaces, where the shelves don't get in the way. On the topic of drawers, self-closing drawers are a nice luxury item, if we can afford it.
Comfortable chairs and/or workstations for computing from various places in the house — we live, play, work, and dream on the computer so we'd like to be able to access a computer (wireless laptops) from different places at different times — including bedrooms, porches, and balconies.
Small, simple bar area — preferably near the main areas of the home where we spend the most time, rather than in the basement (or in addition to a bar area in the basement). That said, I'd be perfectly happy with the arrangement in our current home: a large corner cabinet in the kitchen devoted solely to adult beverages and party supplies.
Large pantry room — rather than a small pantry closet. Ideally, there will be some shelves or counter space for things like the blender, toaster, coffee maker — all things that are rarely used in our home. And it must have an overhead light, as well as a few outlets.
 Separate cleaning closet — to store all of the paper products and cleaning supplies that I often buy in bulk. In addition, there should be enough space for a broom, vacuum cleaner (upright and handheld), steam mop, and spray mop for the hardwood floors. Shelves are necessary to keep all of the smaller supplies organized, along with adequate floor space to accommodate the larger cleaning gadgets. An overhead light and a few outlets are a must.
Large apron sink — instead of a double-basin sink. We've always had a double sink in the kitchens where we've lived and, trust me, half of it rarely gets used at all! I'm interested in a modern design, rather than a country farmhouse sink. Undermounted is my personal preference.
Medium sized offices — one for each of us, and spaced enough apart that he can't hear my TV and I can't hear his stereo
Fireplace insert (to save money) — I've learned firsthand that we don't value a fireplace as much as we always thought we would. So if we must have one (for the coziness and character that it adds to a rustic log home), I want to be able to utilize the space around it in practical ways. Rather than wasting space by devoting one entire wall to a fireplace, I'd rather find ways to incorporate it into our "entertainment area" — with built-in bookshelves surrounding it, space for a large flat-screen TV above it, and a maybe even a ledge wide enough to provide additional seating.
Window seats wherever possible — I love the "dimension" that your walls and the room take on when you include a window seat (or built-in bookshelves, for that matter). Straight walls have less character, while cut-outs, bump-outs, and angles add "depth" to a room.
Flat cooktop in the kitchen — we have one now, and it's a cinch to clean. As a bonus, it also serves as extra counter space when it's not being used.
Linen closet in each bathroom — believe it or not, we've never had linen closets in any of the bathrooms where we've lived. We've always stored things like towels, linens, toilet paper, and cleaning supplies in a hallway closet instead. Keeping those items inside each respective bathroom would be so much more convenient.
Fewer cabinets in the bathrooms that extend wall-to-wall — we prefer a simpler, more open and spacious look in our bathrooms. Stand-alone pedestal sinks are better than countertop sinks in smaller bathrooms and powder rooms. When floor-level cabinetry is used, consider placing it on pedestals (think: claw tub) to make it look like "furniture" instead of using standard toe-kicks.
Powder room/guest bathroom with personality — since this is a frequently accessed room on the main level, we'd like it to be decorated so it's fun, yet practical; like a "reading room" filled with our favorite off-the-wall funny books & magazines, or a room that highlights our many travels (think: Route 66 theme, along with framed photos from our travels)
 Larger powder rooms — the toilet in our master bathroom has its own door, making it similar to a powder room (or water closet). However, the space in there is super tight! You have to get your entire body inside and stand to the side of the toilet just to get the door to close. And when you're seated on the toilet, you could literally touch the walls with your legs if you tried. The point: this space is just too confined, and it's awkward getting in and out of that tiny room.
 Wider steps — both inside and out. Our stairs are 40 inches wide, and what a difference a few inches make! Getting mattresses, furniture, office equipment (and desks!) upstairs in this home was a breeze — compared to in our other homes that had average 36-inch wide steps. When we extended our deck out back, we also went for the wider steps. It looks nicer (more open) and you don't ever have to worry about bumping — yourself or whatever you're carrying — into the handrails.
 Wider doors — most interior doors are 30 or 32 inches wide, but they can be as wide as 36 inches. (Ours are 32″.) Our front entry door is 36 inches wide and that would seem to be the perfect width for us throughout the home. There's nothing worse than spaces feeling too tight inside your own home — where you spend the majority of your time — so I prefer wider doors whenever possible.
 Wider hallways — ideally, with an open floorplan there won't be many "confined" spaces like hallways. But if a hallway is necessary in our new home, it must be a wide one. With average 36-inch wide hallways, you tend to bump the walls with your body or whatever you're carrying (luggage, a child, boxes, anything) more times than you can count. Been there; done that. Who wants to have to think about how you're positioning yourself as you walk through your hallways? I'm aiming for 42-inch wide hallways.
Enough room in the guest bathroom(s) and/or powder room to give guests plenty of room to get ready — our bathrooms have sometimes been so cramped that there's not even enough room for guests to lay out their stuff, or for us to to display a basket of toiletries for guests to enjoy.
 A convenient way to prepare the dog's Kong treats on a daily basis. Sounds frivolous, I know. But when it's a task that you do almost daily, it's important to you. I'm thinking along the lines of a slide-out cutting board built-into the kitchen cabinetry at counter height, and a nearby kitchen cabinet devoted to all of the dog's treats (that I buy in bulk when they're on sale), 16+ Kongs that get stuffed with dog treats, tall peanut butter jars, etc. Yep, I like having a dedicated dog food station area… in the kitchen!
 As for flooring in the main living space, variable shades of red oak hardwood flooring is what we currently have. We LOVE it and get lots of compliments on our floors. Initially, we wanted dark chocolate hand-scraped hardwood flooring, but after seeing this in a couple of new log homes, we decided against it because it shows dust terribly! Here are some examples of red oak hardwood flooring.
 For flooring in the bathrooms, we currently have 12×12 tile and we like it, but I'd prefer flagstone rock flooring in the bathrooms (maybe even the kitchen) because it's rustic and has a unique look (irregular shapes, rather than perfect 12×12 tiles). Here are some examples of flagstone flooring in bathrooms.
 Every house I've ever lived in has been a dust magnet. Perhaps that's a reflection of my cleaning skills and how much I loathe dusting, I don't know. But I do know that a whole house air filter system would be a lifesaver! A whole house air filtration system would cost $1,500+.
…Fortunately, it looks like we are going to be able to incorporate most of these into the custom log home that we are preparing to build.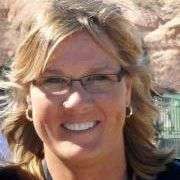 We've gone through the entire process of designing and planning every single detail of our dream log home! We have the blueprints… and the land… and the contractor… and the goal for our log cabin home to be our retirement home. Before you build (or buy) a log home, I have a slew of helpful tips for you — to plan, design, build, decorate, and maintain your very own rustic modern log home. When I'm not fine-tuning the log home of my dreams, you'll find me at the corner of Good News & Fun Times as publisher of The Fun Times Guide (32 fun & helpful websites). To date, I've written nearly 300 articles for current and future log home owners on this site! Many of them have over 50K shares.