This post may contain affiliate links. If you buy thru these links, we may earn a commission at no additional cost to you.
---
Underdecking is a drainage system that turns the area under a deck or balcony into dry usable space.
Regardless of whether we end up going with a composite deck vs a pressure-treated wood deck, we will probably use underdecking on at least 1 or 2 of the 4 overhead decks/porches that we have on our log home.
I have only explored 2 underdecking manufacturers at this point:
Undercover Systems
TimberTech's "DrySpace"
In theory, they both offer the same thing. The differences are in the details.
Why Do You Need Underdecking?
I've known from very early on that I wanted to use underdecking on the back side of our house.
Why?
Well, I guess all of the beautiful porches & furniture pieces I've been seeing in magazines over the past year or so — ever since we decided to build a log home — have convinced me that I want to have cool-looking furniture on my porches. Especially the back porches, which will be utilized the most.
And if I should invest in some quality outdoor furniture, then I'd like for it (and us when we're sitting on the porch) to remain dry 24/7, 365 days a year.
The fact of the matter is, we have 3 levels of porches, decks, and balconies on the entire back side of our house (…one of those being a walk-out basement). And we would probably like to keep most of the areas underneath those spaces dry, if possible.
Our screened-in porch, for example. It's on the middle level. That's one place where we will probably keep our "best" outdoor furniture and spend a good deal of our time relaxing outdoors.
I've known about this particular company for awhile now. Each year when I enter the Nashville Home & Remodeling Show, theirs is the first booth you walk past.
Each year, I grab a brochure and listen to them explain their one-of-a-kind product to others who stop by their booth.
But it wasn't until this year that I was prepared to ask questions of my own. And I got exactly the info I was hoping for.
What makes their product different from other underdecking systems?…
It doesn't rest directly on the underside of the deck itself. Instead, it rests on its own steel support system 12″ below the existing deck, and it goes all the way around the perimeter of the deck. Other systems adhere directly to the deck joists and therefore have a tendency to trap water & moisture (increasing the likelihood of mold & mildew building up) on the underside of your deck.

It's made of galvanized steel, rather than tin or aluminum. This means the underdecking is sturdier and more stable over time than underdecking made from the thinner materials.

It has a unique steel-frame "channeling" system to whisk the water away from the deck, away from the house, and directly into your rain gutters. When combined with an ever so slight slope to the underdecking itself, and the easy-to-access (and therefore, easy to clean) steel panels… this product ranks best in my book.

It comes in lots of great colors (bronze, tan, white, gray) and styles (plain or woodgrain).
Note: The colors as they appear on the website are not as they appear in person. For example, in person "bronze" actually looks black! And "tan" actually looks cream! The biggest downside to me is the fact that there is no true brownish colored woodgrain available (…despite the color samples shown on the website). The woodgrain effect only comes in white or tan. Period. What a bummer for log home owners, like us.
It's got a good track record, having been around since 1972.

It's made of vinyl.

It comes only in white. Technically, it's an off-white, but it really looks white.
Summary: Undercover Systems vs TimberTech's Dry Space
In the end, if you're okay with a vinyl product, don't mind white as the color for your underdecking material, and you aren't concerned about moisture build-up and ventilation, then TimberTech's Dry Space system would probably be just about as good as Undercover Systems.
I think that, overall, TimberTech's DrySpace product has a pretty good track record, and serves its purpose well. Perhaps the biggest downside is it only comes in an off-white color. Particularly with our log home, we really don't want "white" anywhere — inside or out.
So, if variety of colors are what you're after… if a long-lasting steel product makes sense to you… if you want to increase ventilation around your deck… and if you want ease of cleaning… then Undercover Systems is probably your best bet.
Another interesting thing about the Dry Space product is the fact that they say: "DrySpace easily secures to the joists of any new or existing deck with 12″ and 16″ on-center joist spacing." Yet, TimberTech speaks so highly of the fact that their composite decking is so strong it is one of the few that can actually be spaced 20″ on-center. I guess you don't get to take advantage of that great feature if you want to use their DrySpace underdecking!
After all is said and done, the only hesitation we have with using Undercover Systems at this point is the cost. It's practically double the DrySpace price. At Undercover Systems, they're quoting about $14 a square foot. But I like them a lot, so we'll probably go with them as we initially planned.
Best of all, their product works well with TimberTech's own composite decks (or any composite decks, for that matter). Which is a good thing in our case, because we are probably going to go with TimberTech's decking, if we do in fact go with a composite material instead of using pressure-treated wood.
And I also know for a fact that reps from both TimberTech and Undercover Systems speak very highly of one another and both trust the other's products wholeheartedly. That says a lot.
On a related note, TimberTech says the use of Undercover Systems with their solid core deck planks (TwinFinish or Earthwood) does not void the Timber Tech warranty in any way. If you chose to use underdecking (other than TimberTech's own DrySpace) with their Floorizon line, it's a "gray area" with regards to the warranty — due to the fact that Floorizon needs ventilation and air circulation. Closing things up with underdecking influences this deck's effectiveness.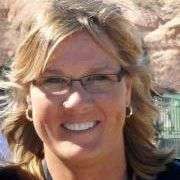 We've gone through the entire process of designing and planning every single detail of our dream log home! We have the blueprints… and the land… and the contractor… and the goal for our log cabin home to be our retirement home. Before you build (or buy) a log home, I have a slew of helpful tips for you — to plan, design, build, decorate, and maintain your very own rustic modern log home. When I'm not fine-tuning the log home of my dreams, you'll find me at the corner of Good News & Fun Times as publisher of The Fun Times Guide (32 fun & helpful websites). To date, I've written nearly 300 articles for current and future log home owners on this site! Many of them have over 50K shares.