This post may contain affiliate links. If you buy thru these links, we may earn a commission at no additional cost to you.
---
What follows are some of the most interesting things I've learned about composite decks, along with some of the questions I still have about composite decking materials.
Most of my initial questions have been answered by TimberTech reps here and MoistureShield reps here.
Onto the trivial facts about composite decks…
Does The Shape Of The Planks Matter?
This is probably the area I'm most confused about (but least concerned about) at this point. I'm hearing mixed messages. I don't know if anyone really knows the reason for all those channels on the bottom.
For example, TimberTech has a line of planks with the channels, and two other lines without them. Those channels can't be the end-all-be-all to composite decking or everyone would be doing it… and you certainly wouldn't offer a version without the channels if the channels made all the difference, right?
The best explanation I got from TimberTech was: The planks with the channels (Floorizon) have the easiest installation (tongue & groove) and leave no visible screws because they're hidden underneath the lip of the previous plank. But… due to the tongue & groove effectively closing the gaps between the planks, you need to make it easier for those planks "breathe". Hence, the reason for the thinner plank to begin with, and the reason you must install these planks at least 12 inches off the ground — to allow for greater air circulation over, under and around the deck itself.
One bonus for tongue & groove type deck boards: this deck will partially protect the space beneath from rain! This makes tongue & groove planks ideal for rooftop decks. Plus, they actually look more like porch floor than a deck.
MoistureShield told me that the channels lessen the weight of your deck while still maintaining the strength of the boards, help ventilate the deck, and help the planks lie flatter over time.
For the record, the MoistureShield/ChoiceDek planks are mostly solid chunks of composite. Whereas TimberTech's are mostly hollowed out and only solid material on the very top. Also, MoistureShield's product is not tongue & groove — even though it has the channels; and the channels are much shallower than TimberTech's.
Again, I'm not sure the channels really matter all that much. I look at it as 2 ways of achieving the same thing: a top-quality deck.
What About The Posts & Rails?
I'm not too crazy about the composite-looking posts & railings… at all! That's where composite decks really start to look "fake" and plasticy, in my opinion. Maybe because they protrude so much into your outdoor living space, and you're actually touching that surface on a regular basis. Rough, plastic-looking accent railings just aren't my thing — especially on a log home.
So in our case, if we decide to go with composite decking, we would probably get "real" wood posts (either stained to match whatever composite deck we choose or stained to match the exterior color of our log home) and then place wrought iron or aluminum railings between the posts.
Then again, TimberTech's black posts aren't too bad (they're actually a PVC type product but the black ones look more like metal… or better than "plastic" anyways). With the right aluminum or wrought iron railings in between — which has been our desire no matter what type of deck we go with — perhaps it would look alright.
Virgin or Not?
The degree to which the plastic composite contains more or less "virgin plastic" is a touchy issue among the company reps themselves.
AERT (the manufacturer of MoistureShield and ChoiceDek) says it's true, they recycle and re-recycle and even re-re-recycle in order to keep their costs down in order to repurpose all of the usable plastic available to them. That means, AERT decks contain large amounts of non-virgin plastics.
One AERT rep explained it to me like this: A coke bottle lying in a field for a year doesn't break down or change over time. It is what it is — plastic through and through. So a company using non-virgin plastics is producing just the same quality product as someone who used only brand new coke bottles to make the same thing.
The Crane rep (manufacturer of Timber Tech) explained it to me like this: "While that's true, there is some degree of strength that is inevitably compromised over time. As plastics age, they are not structurally as strong as the day they were created."
Our patented process uses a variety of cellulose materials, wood flour and virgin polyethylene. The result: a product that is more consistent, more natural looking and of higher quality than composites that use recycled materials.
I hope I didn't miss something in my conversations with the reps about this, but I think that's the gist of it. In the end, I wasn't sold either way. I think it's more of a way to nit-pik to find a way that one company is "different" from the other. (In fairness, this topic arose in our conversations because I asked each rep what made their product different from their competitors.)
What About The Size Of The Planks?
TimberTech's Floorizon planks are 1 inch thick by 6 inches wide.
TimberTech's TwinFinish and Earthwood planks are 1 inch thick by 5-7/16ths inches wide.
MoistureShield's planks are all 6 inches wide.
Best I can tell, the true size of the planks doesn't really matter that much. Except for the fact that you would need slightly fewer planks to complete a deck if you were using the 6-inch planks.
How Do Changes In Temperatures Affect Composite Decks?
I know that TimberTech says that 400 degrees is when their product would begin to get flexible.
With most decks topping out at 100 degrees (give or take, for actual surface temps), it's fairly clear that composite deck planks would never become flexible enough to actually bow or bend.
Ways To Get Creative

One of the TimberTech reps showed me a picture she took of a deck which was primarily Teak (Earthwood), with a 2 or 3-plank border in the Walnut (Earthwood) color. It was so cool.
You could certainly do this with any brand of composite deck materials — simply pick 2 colors that complement each other. But, for some reason, it looked especially classy using the Teak and Walnut colors in TimberTech's product line. Just imagine a "border" of one color trimming your entire deck.
You could also make your own designs (think: squares, diamonds) in key areas of your deck — maybe at the landing(s) or on different tiers or corners of your deck or patio.
I like the fact that you can use this technique to "dress up" a boring 'ol composite deck and make it look like top-of-the-line classy decking. The possibilities are endless.
Plus, chances are, the "effect" will be so cool that most people won't even realize it's a composite deck in the first place!
For the record, if you are planning to create patterns or borders on your deck (using 2 or more different colors of planks) and you're going to use a TimberTech product, then you probably don't want to use their Floorizon line because its tongue & groove system makes the borders more difficult. Just a thought.
Well, if I think of any other burning questions for the composite deck people, I'll be sure to post them here.
Watch for answers to these questions — in the form of "updates" in this article — as I get more information.
For now, here is an in-depth review of TimberTech vs MoistureShield (or ChoiceDek).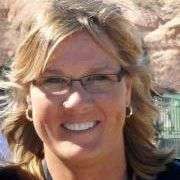 We've gone through the entire process of designing and planning every single detail of our dream log home! We have the blueprints… and the land… and the contractor… and the goal for our log cabin home to be our retirement home. Before you build (or buy) a log home, I have a slew of helpful tips for you — to plan, design, build, decorate, and maintain your very own rustic modern log home. When I'm not fine-tuning the log home of my dreams, you'll find me at the corner of Good News & Fun Times as publisher of The Fun Times Guide (32 fun & helpful websites). To date, I've written nearly 300 articles for current and future log home owners on this site! Many of them have over 50K shares.