This post may contain affiliate links. If you buy thru these links, we may earn a commission at no additional cost to you.
---
Do I have great friends or what?!?!
Two different people gave me these 2 huge stacks of home improvement magazines in the past week.
Actually, one of them I've never even met… They just did a random act of kindness and I happened to be the recipient of it! (The other was a relative.)
Truth be told, the magazines you see here are just the tip of the iceberg…
It's No Secret…
One of my favorite things in the world is to look through old magazines for practical, useful, and helpful information that I can use and/or pass on for others to use.
Somehow, I've been so incredibly fortunate to have a few friends (and even some strangers) who understand that and continue to feed my habit.
You see… not only did 2 different people recently drop a load of 20+ magazines (each!) in my lap this week, but I also have one other friend and one other stranger who each provide me with magazines like this on a regular basis!
Now, how cool is that?!?!? It's like all year long… (And for me, the "bonus" is finding several Real Simple magazines included in the bunch!)
How To Get Stacks Of Old Magazines:
If, like me, you enjoy flipping through old home design & decorating magazines (…even some women's magazines) for their wealth of ideas, as well as time- and money-saving facts… then listen up!
1. Tell everyone you know that you'd love to have their old magazines. Friends, relatives, neighbors, co-workers will likely save 'em up and pass them onto you when they're finished.
2. Ask places that you frequent (nail & tanning salons, doctors offices, and other waiting rooms) if you can have an issue or two from their stack — assuming they have several more magazines on display for their clients to enjoy. (I've done it. They usually don't even think twice.)
3. Try to start a magazine swap at work or in the neighborhood.
4. My favorite: Sign up with the Freecycle group for your area and just sit back and wait. (In my area, there are about 3 shout-outs every month or so offering FREE magazines for anyone who's willing to come pick 'em up. Sometimes I respond to one of those (that's how I got the stack of Handyman magazines pictured above). And sometimes, if you're lucky, one of those leads to a regular supply of hand-me-down magazines.
For example, I've had an ongoing relationship with one Freecycler here in Franklin for over a year now. And we've still never met. She sends me an email every time she has 15 or more different magazines available for pick-up. I email her back to say when I'll swing by her house to get them. She puts them on her porch. I don't even ring the doorbell. And we go about our daily lives. I think it's so cool that things like this are possible… all because of the Internet!
Here's more about Freecycle & how to find a group in your area!
Priceless!
So… If you, too, are in the process of building a new home (or remodeling an old one), I would encourage you to try & get your hands on some old home improvement magazines. The ideas inside are truly priceless.
And the magazines… well, they're FREE!
One word of advice: Just don't let them pile up like this! (Try freecycle. It works.)
RELATED:
My favorite home & organization magazines
How to make your own fun magazine cover
Log home magazines… which are best?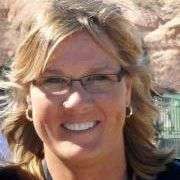 We've gone through the entire process of designing and planning every single detail of our dream log home! We have the blueprints… and the land… and the contractor… and the goal for our log cabin home to be our retirement home. Before you build (or buy) a log home, I have a slew of helpful tips for you — to plan, design, build, decorate, and maintain your very own rustic modern log home. When I'm not fine-tuning the log home of my dreams, you'll find me at the corner of Good News & Fun Times as publisher of The Fun Times Guide (32 fun & helpful websites). To date, I've written nearly 300 articles for current and future log home owners on this site! Many of them have over 50K shares.