This post may contain affiliate links. If you buy thru these links, we may earn a commission at no additional cost to you.
---
I can't help but wonder… when it comes to screening in a porch, which is the most likely to be used and appreciated? A screened in front porch? Or, a screened in back porch?
We are, of course, talking about a log home here. So the fact of the matter is, both porches are likely to be used equally as much. But still… which is the most popular option when it comes to screened porches on log homes?
I realize it has a lot to do with how your log home is actually situated on the property, but I'm thinking there is probably some "trend" out there that I might want to take into consideration.
So I put on my "research" cap, and got to work. Here's what I found…
Open vs Screened-In Porches
Not only does a porch extend your living space. It also serves as shelter from the sun, rain, or snow whenever visitors arrive. The design of your porch also sends a message to your visitors.
Open porches are by far more popular for front porch design, as the front porch represents one of the first things that will greet visitors. An open porch tends to be more welcoming, and widely designed steps can help enhance the inviting effect of this porch."
— Front Porch Design
We, like many log home owners, are fortunate in that we will have both a front porch and a back porch — each extending the full length of the house. (We didn't get so lucky as to be able to incorporate a wraparound porch though. Bummer.)
Creating more of a sense of privacy, screened porches tend to be used more widely in back porch design." — ServiceMagic.com
See… I knew there was a trend and that one would be more popular than the other!
So there you have it, back porches are more frequently screened than front porches.
For the record, that's what I was leaning toward… screening-in the rear porch. But screening-in the front porch seemed like a good idea whenever I considered the amount of time we would likely be spending on the front porch… next to none. I figured the porch being screened it would entice us to spend more time there.
But wait, there's more.
Partially-Screened Porches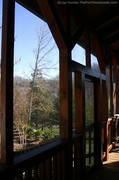 The truth is… our situation has a unique little "twist".
You see, there's a "bump out" that extends 8 feet from the middle of the house in back. While this makes for an interesting look and feel to our log home, it also makes it impossible to screen the entire back porch.
So now, my dilemma is… which side of the back porch should we screen? The part that extends off our master bathroom (there may be a hot tub out there some day). Or, the part that will accommodate our "grilling station" since it is near the kitchen, though it also happens to be within an earshot of the nearest neighbor.
I have this thing about doing everything possible to increase the distance… even the perceived space between us and the neighbor's house.
I'm leaning toward screening-in the part of the master bathroom. But first of all… how many people actually have a porch — let alone a screened in porch — off their master bathroom?! That just seems a little odd to me to pass through the bathroom to get to the great outdoors.
Then again, I know a lot of people have a porch (or balcony) off their master bedroom. And technically, it's still the "master suite" area. So maybe it's not so crazy after all?
Especially if we have a hot tub out there someday soon… I'm fairly certain that's the side I'm leaning toward. Thoughts anyone?
To be honest, I've actually considered screening in the whole dang thing — front and back! Why? Because our log home will be situation smack dab in the middle of some thick woods, and there are 3 creeks surrounding the property. With all the bugs likely to be out there, I'm pretty sure we'll appreciate whatever area of the porch we eventually decide to screen!
RELATED:

Front Porches Come Home

Front Porch vs Back Porch

Front Porches Of Yesteryear
This Old House: How To Screen-In Your Porch
Screen Tight: A Porch Screening System

Your Screen Choices: Types Of Screens For Porches
And now for my favorite porch quote:
When I bought this house, every contractor, plumber and electrician who came over to work on various projects said the same thing to me: 'You're going to want to screen in the porch.' But I said, NEVER!… So, I am getting the porch screened in in a few weeks."

— Madeliene, author of Simply Green's "Jumpstart Spring: The Front Porch"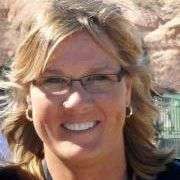 We've gone through the entire process of designing and planning every single detail of our dream log home! We have the blueprints… and the land… and the contractor… and the goal for our log cabin home to be our retirement home. Before you build (or buy) a log home, I have a slew of helpful tips for you — to plan, design, build, decorate, and maintain your very own rustic modern log home. When I'm not fine-tuning the log home of my dreams, you'll find me at the corner of Good News & Fun Times as publisher of The Fun Times Guide (32 fun & helpful websites). To date, I've written nearly 300 articles for current and future log home owners on this site! Many of them have over 50K shares.