This post may contain affiliate links. If you buy thru these links, we may earn a commission at no additional cost to you.
---
Our current dilemma: Whether to use composite decking for the porches and decks of our new log home or not.
First thought…
It's a log home/ Why in the world would we want to use non-log products in our all-log dream home? I know. I certainly feel guilty even thinking about using "fake wood" in our log home. But if I can get a similar look and quality product with less maintenance, then I'm all for it.
Second thought…
Composite decking uses recycled materials, is longer lasting, and requires less maintenance & upkeep. I can just look out our back window for a firsthand reminder of the problems we've had with our wood deck, wood railings, wood stairs, and wood fence. (And they're only 5 years old!)
Of course the biggest drawback to using composite decking is that "fake" look that sometimes results. That is the biggest factor holding us back at this point.
So I'm wondering… Have any of you used the newer composite decking materials for decks or porches? Or, perhaps you've seen a completed project (in person) that was built using composite decking?
If so, we welcome your thoughts…
Some Basic Facts
Yesterday, I made a visit to the local Home Depot and Lowes. I was hoping I'd be able to touch and feel and possibly bring home some samples of their composite decking products.
I could touch and feel the tall stack of boards for each brand that Lowe's and Home Depot had on display. But neither store offered "samples".
What a shame. It seems to me that homeowners might like to see products side-by-side. And, if they're anything like me, they would appreciate being able to make comparisons in the comfort of their own home, under different lighting, as well as indoors vs outdoors.
And let's face it… color choice is probably the second most important factor, after the overall "look" of these composite decks. Not only is it a big investment we're talking about here. But you could actually be unhappy for a number of years if you don't get the end result you were hoping for.
Differences In Deck Boards
I have a lot more research to do at this point regarding the wide range of composite decking choices available to us.
Fortunately, the folks at Lowe's were incredibly helpful in one respect.
The lady behind the counter in the "Contractors" area said that based on what she hears from the contractors who buy their decks from Lowe's, ChoiceDek is without a doubt the superior product. (The other brand that Lowe's sells is Trex.)
When I asked why ChoiceDek had the lead among contractors, she showed me a side-by-side comparison of ChoiceDek and Trex. She said the grooved channels on the bottom of the boards made by ChoiceDek are highly preferred due to their ability to prevent bowing, warping, and splitting. She said while she hears a lot of positive remarks about the ChoiceDek, the contractors haven't had many good things to say for the Trex product that Lowe's also carries.
Some Concerns I Have About Composite Decking
Color choices
Natural looking vs fake looking
Mold issues
Types of screws/fasteners used
The ability to use "underdecking"
Cost compared to wood decks
Codes issues (I've heard some composite decks don't meet local codes)
Some maintenance will inevitably be required… is it easy?
Stains (from spills, grease, etc.)
How they weather and hold up over time… a long time
I'll let you know what we ultimately decide. As I said, I have a lot more homework to do.
Here are 10 reasons to choose real wood decking.
What About IPE?
For the record, we also briefly considered using IPE (pronounced "ee-pay") for our decks.
The IPE deck is made of Brazilian Walnut (also known as Ironwood or Ipe wood), and it is naturally resistant to rot and decay.
IPE is 8 times harder than California Redwood, and has the highest rating for termite resistance. This imported hardwood is the finest quality wood available for building outdoor decks, furniture and fencing. Source
We had a change of heart as soon as we learned how quickly the color fades unless you re-oil the entire deck at least every year. More than likely, you'd have to re-oil it twice a year — including in all those cracks and crevices!
It is the most beautiful deck product in the world though.
More About ChoiceDek Composite Decking
For the record, the brochure I got from Lowe's says they carry "ChoiceDek Premium" by Weyerhauser.
Here are some fun facts about ChoiceDek:
Basic features and benefits of ChoiceDek Classic and ChoiceDek Plus.
Here are the features and benefits of ChoiceDek composite lumber.
Other Composite Decking Companies
To be honest, the only one from this list we are considering is IPE. But here are several composite decking choices if you wish to do your own research.
Tips On Staining Composite Boards…
The wood particles in wood-and-plastic composite decking are just as vulnerable to the sun as solid wood and will turn dingy over time. Specialized semitransparent stains for composites allow you to restore or change the color of weatherbeaten decking. These last a year or two. You can also use a standard solid-color acrylic deck finish and get 3 to 5 years of service. High-traffic areas may need more frequent attention.  — This Old House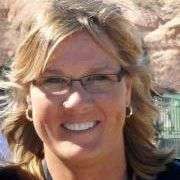 We've gone through the entire process of designing and planning every single detail of our dream log home! We have the blueprints… and the land… and the contractor… and the goal for our log cabin home to be our retirement home. Before you build (or buy) a log home, I have a slew of helpful tips for you — to plan, design, build, decorate, and maintain your very own rustic modern log home. When I'm not fine-tuning the log home of my dreams, you'll find me at the corner of Good News & Fun Times as publisher of The Fun Times Guide (32 fun & helpful websites). To date, I've written nearly 300 articles for current and future log home owners on this site! Many of them have over 50K shares.