This post may contain affiliate links. If you buy thru these links, we may earn a commission at no additional cost to you.
---
Here's a guide to asking the right people the right questions…
This weekend I went to the Nashville Home Decorating & Remodeling Show. No, it's not a log home show, but those are geared more for people who are just beginning to consider building a log home anyway. And we're way beyond that… We're at the actual design and building phase now. So we are more interested in the nitty gritty details that separate one roof company or window company from the other at this point.
Okay, so I've gone to this annual event at the Nashville Convention Center for the past 3 or 4 years now. But never have I gotten SO much out of a show like this before!
For starters, I spent 5 hours there … the first day! And another 3 hours the second day! By myself, too. (Jim's out of town… again.)
There were over 600 vendors at this show, and I'm usually not real comfortable at these types of events because I think everyone's trying to hard-sell you.
Especially if you don't already know much about their product… then the sales pitch is usually "Oh, our product is the best on the planet. You'd be crazy to look anywhere else."
…But not this time!
It Makes A Difference If You Know What You're Talking About
This time, I was armed with a million and one questions (in my head), and I was focused. With our new log home in mind, I concentrated my efforts on fine-tuning our options for the following:
roofs
decks
underdecking
basement walls
variable width wide-plank flooring
windows & doors
Having a fairly narrow focus like this made the show so much more meaningful this time. Usually, I just wander aimlessly at events like this… because we haven't been "ready" to consider things like poured walls vs pre-cast basement walls, metal roofs vs architectural shingles, composite decks vs pressure-treated wood decks, wood vs aluminum clad windows, and full-glass vs half-glass doors before.
Plus, I did some homework before I went, and I even called a couple of the companies directly to get a better idea of what they offer and how their product is different from their competitors'.
I Am Woman, Hear Me Roar
Trust me when I say… I didn't accept "free samples" or brochures from anyone other than the vendors mentioned above. Yet I still came home with 2 full bags jam-packed with fliers and samples of decks, roofs, basement walls, flooring, doors, and windows.
The biggest thing I learned: When you have some idea of what you want (or are willing to consider) for your house, it's so much easier (and more FUN!) to "grill and be grilled" by the vendors!
I think I actually intimidated some with my questions.
For example, I actually knew what I was talking about when it came to composite decks. The 2 composite decking manufacturers at the show were MoistureShield and TimberTech. I like them both… a lot. (More on that later.) But since I knew what I wanted and had some pretty detailed questions for these vendors, I think I caught them by surprise sometimes.
In fact, most of the vendors I visited with had to refer me to "the guy who really knows" of the crew at hand. Because the first person I spoke with usually didn't know the answers to my questions.
Between you and me, I've found that the ones who are the most eager to pounce on you and try so hard to "sell" you are usually the least experienced salespeople and the least knowledgeable about the product, in general. Whatever that says…
So anyways… I love that I got it straight from the horse's mouth for each of the products I was most interested in. I truly got tons of valuable information at this event. Who knew?
I will admit though… in some areas, I was not nearly so well-versed as say my husband would have been. I mean "pre-cast basement walls" and "roofs" just aren't as exciting as "decks & patios" are to me. But I did my part and got the info so Jim can scrutinize it, and call them for more information.
The Vendors I Liked Best
If you're interested, the vendors I trusted most and got the most valuable information from (and the ones we will ultimately consider using in our log home) are:
TimberTech — composite decks and patios

Undercover Systems — "underdecking" protection to keep decks & patios under porches or balconies dry

Superior Walls — pre-cast basement wall & foundation systems

MoistureShield — composite decks and patios

A&R Roofing — for their line of CertainTeed asphalt shingles and metal roofs
As for the windows, doors, and flooring… I mostly just collected brochures & contact info, because each will require a separate visit to the manufacturer (or a full-inventory showroom) in order for us to make an informed decision — and be able to take advantage of any upcoming sale prices.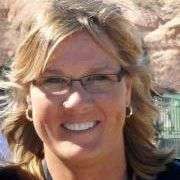 We've gone through the entire process of designing and planning every single detail of our dream log home! We have the blueprints… and the land… and the contractor… and the goal for our log cabin home to be our retirement home. Before you build (or buy) a log home, I have a slew of helpful tips for you — to plan, design, build, decorate, and maintain your very own rustic modern log home. When I'm not fine-tuning the log home of my dreams, you'll find me at the corner of Good News & Fun Times as publisher of The Fun Times Guide (32 fun & helpful websites). To date, I've written nearly 300 articles for current and future log home owners on this site! Many of them have over 50K shares.