---
This post may contain affiliate links. If you purchase through these links, we may earn a small commission at no additional cost to yourself.
---
Well here's something I just learned…
Reasons to buy paint-grade exterior doors versus stain-grade exterior doors.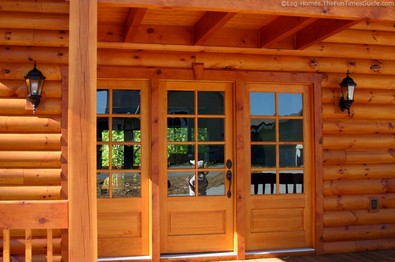 We recently picked out the exterior doors for our log home.
I ended up exploring a dozen or so manufacturers and distributors for exterior doors — including locations in Georgia and Tennessee.
I was on the hunt for 7 exterior doors.
One Question That Kept Coming Up Was…
"Will you be painting the door… or staining it?"
Of course, I'm thinking: "Well, it's a log home. And we'll be staining the logs. So I guess we'll be staining the doors, right? Yeah, we'll be staining the doors."
I didn't realize how important this question was…
Reasons To Choose Stain-Grade Exterior Doors
It didn't make sense to me why our decision to paint vs stain the door couldn't be made after-the-fact (after we had installed the door) and why it would affect the price of the door anyway.
But after a conversation with a contractor about this, I learned that we should always say we want a stain-grade door, rather than a paint-grade door. The reason is because paint-grade doors are slightly lesser quality — in that any of the imperfections have been "filled" with a wood filler or something in order to give the smooth surface for painting.
Whereas stain-grade doors are a slightly better grade where the imperfections have either been left alone (to enhance the natural beauty of the door) or they have been treated in some other way (sanding?… I don't really know) to hide such blemishes and make them nearly invisible once the stain is applied.
I'm sure I'm missing some small detail from the explanation I received from our contractor friend. But that's the gist of it.
I'm just glad I said stain-grade each time they asked — because I had already had all my door quotes in hand by the time I found out the difference between paint-grade vs stain-grade doors.
Painting Stain-Grade Doors
Now, here's the twist!…
The contractor said we will actually want to paint the doors — instead of stain them — though.
Say what? Just when I thought it was all making sense…
He said painting your exterior doors in a color that closely matches (or complements) the color of your stained logs actually makes more sense than staining the doors because paint holds up better in high-use areas. Since lots of people touch, bang into and brush up on your exterior doors a lot (and they also tend to get greasy, grimy, and dirty), the paint simply wears better on exterior doors than stain does.
So overall, painted exterior doors would seem to make more sense — even on a log home.
Whew… now I'm confident that the stain-grade doors I chose are truly the best ones for our new log home!
We've gone through the entire process of designing and planning every single detail of our dream log home! We have the blueprints… and the land… and the contractor… and the goal for our log cabin home to be our retirement home. Before you build (or buy) a log home, I have a slew of helpful tips for you — to plan, design, build, decorate, and maintain your very own rustic modern log home. When I'm not fine-tuning the log home of my dreams, you'll find me at the corner of Good News & Fun Times as publisher of The Fun Times Guide (32 fun & helpful websites). To date, I've written nearly 300 articles for current and future log home owners on this site! Many of them have over 50K shares.