This post may contain affiliate links. If you buy thru these links, we may earn a commission at no additional cost to you.
---
After spending a day on our property at Dale Hollow Lake, we went to out to Center Hill Lake last week (near Smithville, Tennessee).
While there, we enjoyed checking out a number of newly built log homes in the area.
Something that we saw close-up for the very first time was a home that looked like a log home, but wasn't. It had log siding — inside & out.
We currently have plans to use log siding on the basement portion of our log home (to cover the poured cement walls), but we'd never thought of using it for the entire house!
Benefits of Log Siding
I'm sure that log siding has its benefits (…less expensive? lighter weight? easier to work with?), in addition to the aesthetic value that the log siding alone lends to a stick-built home.
Here's what a few log siding companies say about the benefits of log siding, compared to solid logs:

DynamicLog.com

ABCseamless.com

Modulog.com

Logsiding.com

Duralog.com

WoodworkersShoppe.com
One thing's for sure, unless you're a log home expert, my guess is that most people would have a hard time telling the difference between a "true" log home and a stick-built home with log siding.
I know at first glance, we couldn't tell the difference!
Log Siding Close-Up
We managed to find a couple of homeowners who were in the process of moving their belongings into their new home in the Blue Water Bay subdivision on Center Hill Lake.
We were eager to ask them a couple of questions:
1. Whether or not they had high-speed Internet out here on Center Hill Lake; and
2. Who they hired to build their log home.
The first thing they said: "Well, this isn't really a log home. It's just log siding."
I guess we looked so amazed, that they invited us inside to have a look.
These pictures don't do their home justice. It was truly beautiful, inside and out. But it's very hard to capture the look of the interior rooms — especially since the electricity hadn't been turned on yet, so the lighting wasn't the best.
Here are a few:


Log Siding = Flexibility
As I see it, the biggest "plus" to using exterior log siding when building a log home is that it gives you the ability to choose from a variety of wall coverings on the interior walls — especially when it comes to inside portion of the exterior walls themselves.
For example, on a true log home, the inside of all exterior-facing walls will naturally be… log. This is because each solid log serves as both the exterior and interior for all outside-facing walls. (One side of each log faces out toward the elements, while the other side of the same log faces your interior decor.)
But on a home with log siding on the exterior, you could actually have drywall, or tongue & groove wood on the interior walls — whether they are exterior walls, interior walls, or whatever. Thus, you have more options available to you.
Interior Finish Of Wood Walls
One thing we've learned about having wood walls on the inside of your home is this:
Whether you choose full logs, log siding, or tongue & groove wood for your interior walls, it's important to consider how you would like that wood "finished".
For example, one GC we spoke with sands the wood on all interior walls 3
times, applying another coat of varnish each time. This not only smooths out the walls themselves (making them practically slick to the touch), but it also brings out the true grain of the wood. The end result: Strikingly beautiful walls of wood everywhere you look inside your log home.
On the other hand, the interior tongue & groove wood used inside this Center Hill home had been coated with a clear-coat of some sort — much like interior logs often are — but these interior walls had a rougher feel to them than the sanded and finished logs I'm used to seeing inside log homes.
Without a doubt, each spot of wall that I touched with my hand felt briskly rough… kind of like the wood fence in your backyard does. For example, the wood itself would certainly snag a piece of hosiery when brushed against it.
UPDATE: Fred Masey from LogFacts.com and BearfortLodge.com shares some thoughts on this topic…
Using Solid Logs vs Cheaper Methods of Log Construction
Why Build A Simulated Log Home When You Could Just Build A Real Log Home?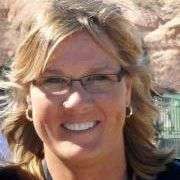 We've gone through the entire process of designing and planning every single detail of our dream log home! We have the blueprints… and the land… and the contractor… and the goal for our log cabin home to be our retirement home. Before you build (or buy) a log home, I have a slew of helpful tips for you — to plan, design, build, decorate, and maintain your very own rustic modern log home. When I'm not fine-tuning the log home of my dreams, you'll find me at the corner of Good News & Fun Times as publisher of The Fun Times Guide (32 fun & helpful websites). To date, I've written nearly 300 articles for current and future log home owners on this site! Many of them have over 50K shares.