This post may contain affiliate links. If you buy thru these links, we may earn a commission at no additional cost to you.
---
This was definitely the most FUN house on the Honest Abe Log Home Tour.
Lonnie and Sherry built this house from scratch themselves. It took them 2 years, and they have a lot to be proud of.
Check out all of these one-of-a-kind features…
From the Honest Abe Fall Tour of Homes brochure:
This is a custom built home in the Genesis log style that resembles our "Westfield" floorplan. The home was built over a basement with the bedrooms in the basement area.
Unique features that you probably won't find in many other log homes…
1. Horseshoe door handles and drawer pulls all throughout the house. Sherry said they went to a regular 'ol store like Tractor Supply (maybe even Home Depot, Lowes, or some feed supply stores?) and bought a bunch of horseshoes for next to nothing. Then they put each one in a vice, and hit it with a hammer to give the horseshoe its bent shape, so it could serve as a handle.



2. Tin ceilings in the basement, plus as an accent on the kitchen island.
3. They called this their "redneck intercom". It's a cut-out in a central portion of the house. On the main level, it appears at the landing for the steps as you head to the upstairs loft. Downstairs, it appears on the wall up high — close to the ceiling. Its purpose? To be able to talk to anyone who's in the basement, while you're on the main level. Ingenious… I don't care how "redneck" it is!
4. A practical carport/garage with a huge loft overhead which is currently being used for storage. Plus, I love the breezeway that attaches to the porch, and the main entry door. Top that all off with the "hidden" location for garbage pails and yard tools. Smart!

5. The porches on this house were narrower than most and had higher railings than most, and the covered porches wrapped around 3 sides of the house. Plus, the log siding around the basement (as opposed to brick, stone, or cement block) made the house look even bigger and more complete.
6. Natural beauty throughout. Lonnie and Sherry chose not to stain their logs on the inside. As a result, it looks very clean and natural. Some may think it looks a little "unfinished", but in person, it really doesn't.
Thanks, Sherry and Lonnie, for giving us a look inside your log home! We enjoyed every second of it… and got a lot of fun decorating ideas. (For the record, their home looks like it was decorated professionally by an interior designer. Sherry said she scooped up bargains over the 2 years that the house was being built, which enabled her to add so many unique touches to the house.)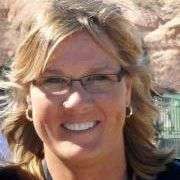 We've gone through the entire process of designing and planning every single detail of our dream log home! We have the blueprints… and the land… and the contractor… and the goal for our log cabin home to be our retirement home. Before you build (or buy) a log home, I have a slew of helpful tips for you — to plan, design, build, decorate, and maintain your very own rustic modern log home. When I'm not fine-tuning the log home of my dreams, you'll find me at the corner of Good News & Fun Times as publisher of The Fun Times Guide (32 fun & helpful websites). To date, I've written nearly 300 articles for current and future log home owners on this site! Many of them have over 50K shares.