This post may contain affiliate links. If you buy thru these links, we may earn a commission at no additional cost to you.
---
So far, the only "rustic" or non-traditional type of furniture (a.k.a log furniture) that we are seriously contemplating at this time is furniture made of Teak wood.
We first fell in love with Teak when we visited the Keepsake Imports booth at a Log Home Show.
We most admired its thick and solid structure, as well as the darker color. That, and the Teak furniture pieces we have seen in person appear to be much more substantial (more solid wood, thicker frame, heavier in weight).
But I figured I better know what I was getting into if we decided to purchase some Teak wood furniture, so I did a little research.
Here's what I've learned…
Indoor Teak Furniture vs Teak Patio Furniture
Truth be told, there are very few differences between the Teak furniture that is used indoors and that which is used on decks, patios and porches.
Typically Teak patio furniture will have a lighter brown (sometimes reddish) hue. Indoor furniture made from Teak is often stained a darker brown color.
We love 'em both. And we plan to buy Teak furniture for inside our log home, as well as some outdoor pieces for our wide and spacious porches.
Teakwood has endured for well over 150 years as the first timber of choice in marine applications and ship building. London has parks with teak benches that are over 80 years old. No other wood can claim to possess the qualities of teak. — Master Garden Products
Little-Known Facts About Teak
Teak wood grows in countries that have tropical rainforests, such as India, Thailand and Malaysia.
It is fast growing and can reach up to 150 feet in height and 3 to 5 feet in diameter. Teakwood is usually about 40 years old when harvested.

It is a high-quality yellow to dark-brown hardwood.
It's generally straight-grained with a coarse, uneven texture and an oily feel.
Noted for its heaviness and durability, Teak was originally used for shipbuilding.
Today it is often used for high-caliber outdoor furniture and decking.
Treating Teak with oils or other preservatives is not necessary for protection, and will not extend the life of your furniture, however, there are a number of products that can help maintain the wood's original hue.

Regarded for its durability and resistance to rotting, Teak is almost impervious to the effects of sun, rain, frost, and snow.
If left to age naturally outdoors, the surface of Teakwood will gradually change to a soft silvery-grey as the pigments fade. This process takes approximately 9 months, depending on the amount of sunlight and rain exposure.
Teak has a high natural oil content and a distinctively aromatic scent (often compared to leather).
Its high level of resinous oil acts as a natural insect repellent, giving it a very high resistance to termites.
Teak furniture is typically more expensive, but it's worth the price, due to its durability and longevity .
We have found that occasional waxing with a quality hard wax makes all the difference in the life and beauty of teak. We use Briwax. It is a biodegradable product made from beeswax, linseed oil and canuba oil that leaves a satin sheen that can't be matched. — Master Garden Products
Sources:
Frontgate: Outfitting America's Finest Homes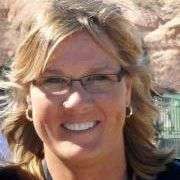 We've gone through the entire process of designing and planning every single detail of our dream log home! We have the blueprints… and the land… and the contractor… and the goal for our log cabin home to be our retirement home. Before you build (or buy) a log home, I have a slew of helpful tips for you — to plan, design, build, decorate, and maintain your very own rustic modern log home. When I'm not fine-tuning the log home of my dreams, you'll find me at the corner of Good News & Fun Times as publisher of The Fun Times Guide (32 fun & helpful websites). To date, I've written nearly 300 articles for current and future log home owners on this site! Many of them have over 50K shares.