Yeah, yeah, yeah… we thought we were going to build on Dale Hollow Lake, but we've had a change of plans. Why? Because "round two" led us to something very interesting.
Namely: a piece of property that got snatched up right before our eyes a year ago!
Yep, our search for the perfect place to build our log home comes full circle.
Here's the scoop…
What Comes Around Goes Around
This piece of property that we wanted with all our heart & soul a year ago recently became available when the property owner found herself facing some big changes in her life and she decided to put the property back up for sale.
It's just over 5 acres in the Leiper's Fork area of Franklin, Tennessee (in Williamson County). No house has ever been built on this property, though it has been perked and plotted for a 4 bedroom house. It's a sweet piece of land surrounded by rapidly flowing creeks, rolling hills, and a lot of trees!
Timing Is Everything
Last year, when we were hoping to stay here in Franklin (or Williamson County, to be more exact), I used to check this site a lot.
I would do a "property search" in Williamson County looking for "land, lots, and farms". (For the record, when I found something I liked, I would then check this site to see who the current owners were, what they paid for the property, and what it currently appraised for.)
Well… fast forward one year and we've bought lake property on Dale Hollow Lake… found a log home company to provide the logs for our log home… spent some frustrating months trying to find a G.C… and ultimately decided to "take a year off" because we couldn't find a contractor we could afford.
When for some reason, out of the blue, I just decided to check that "property search" site again. And what do I find?… The exact piece of land that we wanted so badly a year ago was once again up for sale! This time, we didn't dawdle.
We called immediately and spoke to the owner. Two days later, we made an offer — significantly lower than the asking price. Then we did everything we could to research the land, the buyer, the county's requirements before we could build a house on this property, etc. We ended up closing on the property a couple weeks later. And now we are the proud new owners of 5 incredible acres in Williamson County Tennessee!
A Better Fit
This property in Williamson County just "fits" us better than the lake property in Clay County ever did — as a year-round residence anyway.
I've mentioned before that I've had second thoughts about moving there and leaving Franklin, Tennessee and Williamson County — two places that we love, and know inside & out. We've lived here 5-1/2 years now and would have a very hard time leaving.
So, what's the plan with the lake property?
We'll hold onto it for awhile …unless someone else wants to make us an offer. We'd certainly be open to selling it, but we're not really in any hurry to do so. We know that it will only go up in value (it already has!). Plus, we're confident that we have one of the best (most buildable) pieces of land at Swan Ridge Lake Resort. (It's lot 22C.)
And who knows… it just might be a nice place for "our little log cabin on the lake" at some point!
Some Pictures Of Our Williamson County Property
Our property is on a private no-name road (that's paved!). There are only 4 other homes on this mile long, private road that's twisty and narrow in several places and canopied with trees most of the way.

One great thing about this property: the creeks have running water year round! We are in the midst of one of the worst droughts that Tennessee has ever experienced, and these creeks are still flowing freely and showing no signs of stopping. We noticed last year that the creeks were about a foot deep in their deepest spots. These days, they're only a few inches deep, but it's a steady stream of water. And the best part: whether you're in the front of the house or the back of the house, you can hear the trickling water going down the natural slickrock waterfalls.

Another "plus" for me… Though it's about 14 miles from where we currently live, it's still in the same city and zip code as where we live now! And where we live now is exactly 7 miles from the Natchez Trace Parkway (the Highway 96/Franklin exit)… this property is also 7 miles from the Natchez Trace Parkway (the Highway 46/Leiper's Fork exit).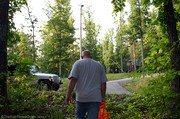 I like to help people find unique ways to do things in order to save time & money — so I write about "outside the box" ideas that most wouldn't think of. As a lifelong dog owner, I often share my best tips for living with and training dogs. I worked in Higher Ed over 10 years before switching gears to pursue activities that I'm truly passionate about. I've worked at a vet, in a photo lab, and at a zoo — to name a few. I enjoy the outdoors via bicycle, motorcycle, Jeep, or RV. You can always find me at the corner of Good News & Fun Times as publisher of The Fun Times Guide (32 fun & helpful websites).
...