This post may contain affiliate links. If you buy thru these links, we may earn a commission at no additional cost to you.
---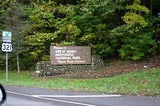 Last weekend, we went to the Log Home and Timber Frame Show in Pigeon Forge, TN.
We weren't sure what to expect, and when we got there, we were surprised that all of the vendors fit into that tiny "convention center". (It's actually more like a showroom than a convention center, but word is they're building a new convention center in Pigeon Forge, and next year's show will likely take place there.)
The good news: It's actually bigger than it appears. Once you get inside, it goes back a long ways. It held 100 or so vendors at this log home show.
The best news: All of the exhibitors were log home related!
What It's Like…
When you go to a log home show (or even a regular home show, for that matter), some attendees will be in various stages of the building process, while others will be done building and attend the show more for the decorating & maintenance ideas alone.
Luckily, there's something for everyone at a log home show.
Having already picked out our log home builder, the type & style of our logs, and various other details about our soon-to-be-built log home, we learned that we were farther along in the process than many of the other show attendees. And we still found a lot of information that pertained to us.
But if you were just getting started in the build process, or even trying to decide whether a log home would be the right choice for you in the first place… this show would have been right up your alley, as well!
Our Focus: Furniture & Decorations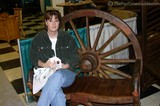 We ended up concentrating more on the "decorating" end of things at this show. We are at the point where we're trying to determine "the look" we're going for on the inside of our log home.
In my mind, my whole home will be log — inside and out — so I'm just not sure how much more log-looking stuff (furniture, wall decor, etc.) I actually want to add to this. I'm thinking I can only take so much wood!
My interior decorating tastes in general are fairly simple and contemporary, so I plan to keep a bit of comfy modern flavor going on inside our log home as well. Not a lot, just enough to keep me from feeling like I'm Laura Ingalls down on the Prairie.
The one thing I'm noticing at this point: by choosing a stain for the interior/exterior of the house that's more of a light "tan or beige brown" (think: brown moving box), as opposed to a "golden or honey brown" (that's yellowish or orangish in nature), adding some very dark brown furnishings will really pop and give you more bang for your buck.

To give you an idea, check out this picture of a dark stool I found online at The Ewins Store.
Love it… rustic, yet simple. And oh, so practical. My intention was to use something like these as kitchen island stools, but there's nothing set in stone yet.
Anyway, I ended up finding some of the best furnishings that fit this line of thinking at the Pigeon Forge Log Home & Timber Frame Show!
Our Favorite Exhibitors At The Show:
Click to view our honest reviews of the three vendors that we liked best, and see photos and links to our favorite pieces. (We didn't know any of these people — or their products — before the show.)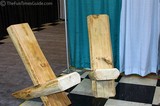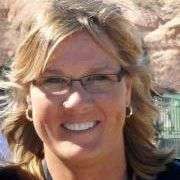 We've gone through the entire process of designing and planning every single detail of our dream log home! We have the blueprints… and the land… and the contractor… and the goal for our log cabin home to be our retirement home. Before you build (or buy) a log home, I have a slew of helpful tips for you — to plan, design, build, decorate, and maintain your very own rustic modern log home. When I'm not fine-tuning the log home of my dreams, you'll find me at the corner of Good News & Fun Times as publisher of The Fun Times Guide (32 fun & helpful websites). To date, I've written nearly 300 articles for current and future log home owners on this site! Many of them have over 50K shares.